Royston Town Youth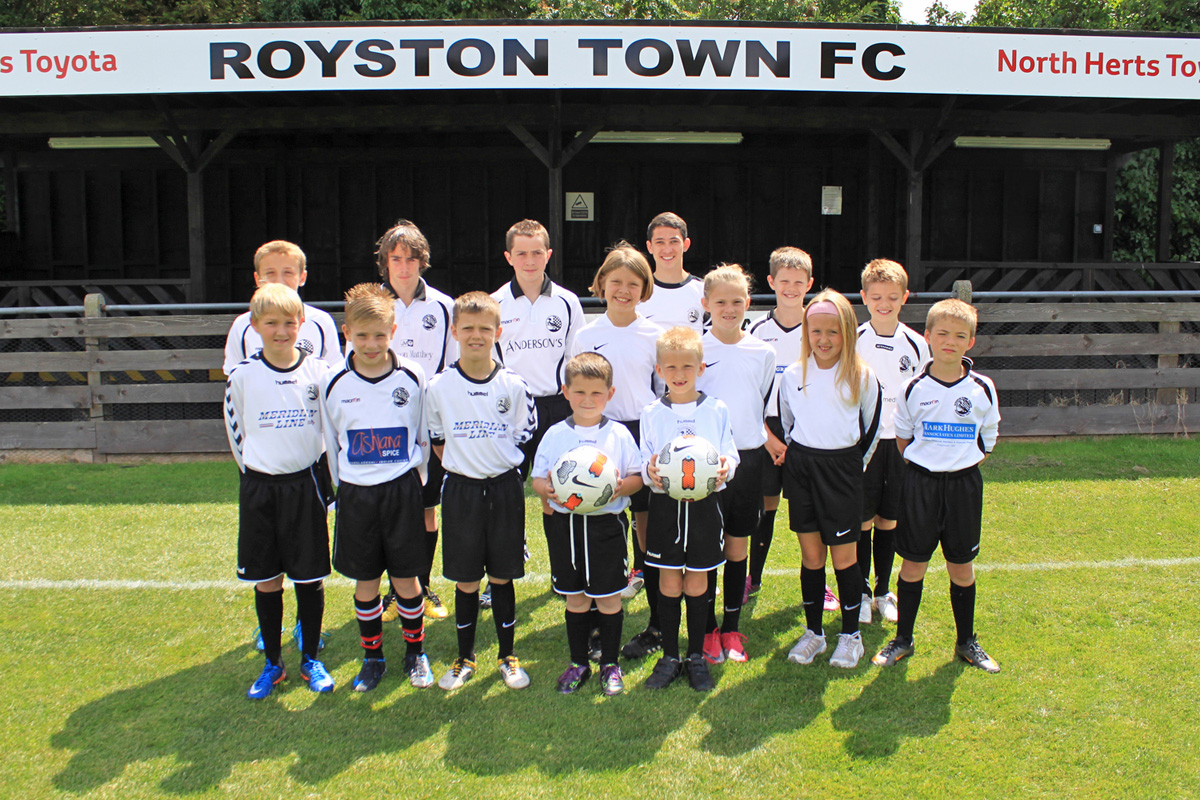 Royston Town Youth FC's mission is to provide football fun for boys and girls of all ages from 3 years old right through to Under 18's.
The club was originally formed in 1975 and fully amalgamated with Royston Town Football Club in 2008, with the club attaining the coveted FA Community Club Status in 2009.  This integration – also bringing together other football clubs in Royston – has been a tremendous success allowing the whole club to thrive and to ultimately provide an exit route for both boys and girls into adult football.
The Royston Town Youth section of the club is run as a sub–committee of the main RTFC board with representation from both sections seen in both executive leaderships.  Under this leadership Royston Town Youth maintains control of its own finances whilst enjoying the structure and strength of the Community Club.
We are committed to providing the best possible playing and training facilities at all levels and all our CRB checked coaches are encouraged to attain the highest possible qualifications to ensure best practice throughout.  Every team has at least one FA Level One coach and the club has a good number of FA Level Two and Three coaches assisting and overseeing all teams.
Royston Town Youth are always looking to increase our player numbers so if you know of a boy or girl that wishes to explore the exciting world of football please get in touch with any of the committee members listed below
Royston Town Youth Committee for 2016/2017 Season
Officers
President
Simon Dobson
Vice Presidents
Mike Dobson
Michael Dyke
Billy Jones
Elaine Phillips
Graham Phillips
Trevor Vipers
Alan Wilson
Chairman
Steve Anderson
07715 594712
Secretary
Frankie Westoby
07904 157940
Treasurer
Michelle Courtney
07793 974569
Welfare Officer
Lorna Webb
07941 841262
Assistant Welfare Officer
Matt Darby
Charter Standards Coordinator
Georgie Phillips
07881 299428
RTY Mid Herts League Secretary
Frankie Westoby
07904 157940
RTY Cambs League Secretary
Michelle Courtney
07793 974569
RTY S-Tech Girls Secretary
Lorna Webb
07941 841262
RTY Royston Crow League Secretary
Simone Robinson
07917 094968
Team Administators
Mini Crows
Simone Robinson
07917 094968
Under 7
Tracy Durrant
Under 8
Michelle Long
07956 199137
Under 9
Steve Gadsby
07513 439989
U10 Crows
Jessica Griffths
07900 576492
Under 10 Eagles/Colts/Falcons
Michelle Long
07956 199137
Under 11 Crows
Matt Darby
mattdarby1981@msn.com
Under 11 Eagles
David Mallows
07956 368351
Under 12 Diamonds/Eagles
Frankie Westoby
07904 157940
Under 13 Hearts
Michelle Courtney
07793 974569
Under 14
Bee Marinkovic
07949 154930
Under 15 Colts/Eagles
Simone Robinson
07917 094968
Under 156 Rangers
Caine Morgan
07857 752934
Under 18 Eagles
Steve Anderson
07715 594712
Under 10 Girls
Giles Parnwell
07590 374810
Under 11 Girls
Barry Smith
07814 197831
Under 11 Girls
Giles Parnwell
07590 374810
Under 15 Girls
Lorna Webb
07941 841262
Managers/Coaches
Under 7
James Heslam, Rhett Monahan, Curtis Irish, Scott Nash
Under 8
Mike Rogers, Tony Miller, Matt Rhodes, Jon Large
Under 9
Steve Gadsby, Matt Phillips, Guy Reynolds, Martyn Lees, Paul Middleton, Danny Baulk
Under 10 Crows
Simon Griffiths, Damon Jacklin
Under 10 Colts, Eagles, Falcons
Steve Smith, Gary Miller, Phil Emmett
Under 11 Crows
Matt Darby/Dan Shaw
Under 11 Eagles
Paula Elton/David Mallows
Under 12 Diamonds
Gary Reid
Under 12 Eagles
Elliott West
Under 13 Hearts
Richard Courtney/Ryan Harvey
Under 14
Jay Nash
Under 15 Colts
Andy Cook/Adam Foster
Under 15 Eagles
Kevin McGlynn/Roy Smith
Under 16 Rangers
Caine Morgan
Under 18 Eagles
Steve  Anderson
Under 10 Girls
NO MANAGER YET
Under 11 Girls
Barry Smith
Under 12 Girls
Giles Parnwell
Under 15 Girls
Spencer Webb/Simon Thorpe
Ordinary Members
Stuart Brennan