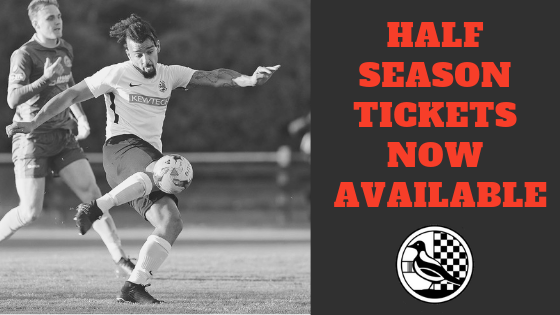 HALF SEASON TICKETS NOW AVAILABLE – save up to 66%
The Crows have enjoyed a strong start to the 2019/20 season, including a record-breaking run in the FA Cup, progressing in the Buildbase FA Trophy and currently sitting just outside the play-off positions in the League. Supporters can now buy a Half-Season Ticket to ensure they don't miss a moment of the remaining action in the BetVictor Southern League Premier Central Division.
Mouth-watering League clashes against Nuneaton Borough and Rushden & Diamonds, as well as our New Years Day clash with local rivals Lowestoft Town, are all included in the Half Season Ticket as the Crows look to deliver a strong second-half to the season and make a real push for the Play-Offs. If you order yours before 15th December then you will also be able to gain entry to the Stourbridge game on 21st December – giving you 11 games instead of 10.
HALF SEASON TICKET PRICES:
Adult Half-Season Tickets £90 – a saving of up to £20 (19%) on Match Day admission prices
Concession price just £45 – a saving of £15 (33%)
Kids tickets are only £7.50 – a saving of £12.50 (66%)
As a Season Ticket holder you also become a member of the Royston Town Supporters Club which gives you:
Free entry to Reserve/Youth Team matches
10% discount on Clubhouse hire
A further benefit is that season ticket holders are also able to attend and vote at the Club's AGM.
Don't delay in securing your Half-Season Tickets by clicking here.