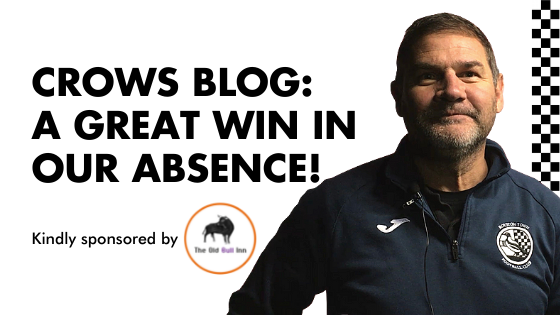 CROWS BLOG: A GREAT WIN IN OUR ABSENCE!
CROWS BLOG: A GREAT WIN IN OUR ABSENCE!
Hi all,
First of all, I'd like to wish everyone a happy and healthy New Year!
I do appreciate that this season's blogs have been infrequent at times but I really thought I had to go on record to compliment Lewis Endacott and thank him for not only the win but an away win!
For me personally and I'm sure I can speak for Chris Watters Saturday was an extremely weird day! Both of us were self-isolating and other than the team selection we had to leave Scott Taylor, Dan Brathwaite and Lewis to deal with everything else, This was not something I particularly enjoyed or was comfortable with but it was a necessity. To add to the difficulties, unfortunately we did not have the services of Ed Asafu-Adjaye (injury) or Ron Henry (illness) to call on , so we had to 'jig' things around a bit.
I obviously can't comment too much on Saturday's game because I wasn't there but I will make a quick mention about our Xmas game against Hitchin Town. I can give the lads that played in that game every excuse under the sun – the heavy pitch, time of year, COVID problems but whatever reasons we had to not perform we were quite simply not good enough. I say this off the back of a great response  but our consistency of playing standards needs to be higher!
In my tenure at our Club I can, before this season, probably count on one hand the games where we haven't performed to at least a reasonable level. However, this season our levels have changed not only game to game but minute to minute in some matches! For me, that is an issue we really need to address. Let me at this point say it's not the ability of the boys, we have a good bunch, who when they choose are excellent at our level. It's that we need to get these performance levels more regularly and for longer durations!
I feel that now is a good time to speak about these things – we're about halfway through the League campaign, still in 2 Cups and getting some new lads in hopefully brings a bit more positivity.  On the players, we have the news that Scott Bridges has decided to look to play his football elsewhere. These things happen. Scott and I had a pleasant enough chat regarding his future. What was said is confidential but suffice to say he made the choice to leave. Scott has been with us for ages and has been a fantastic asset to the club. I personally wish him all the best whatever football/ life choices he takes!
Cheers,
Steve C
The CROWS BLOG is kindly sponsored by THE OLD BULL INN, a traditional 16th-century inn,  located at 56 High Street, Royston, SG8 9AW and is the perfect place for both rest and rejuvenation. Whether you are staying in one of their comfortable en-suite rooms, cosying up around the open fire with a drink, dining in their restaurant or hosting an event in one of their function rooms The Old Bull Inn is sure to exceed your expectations!