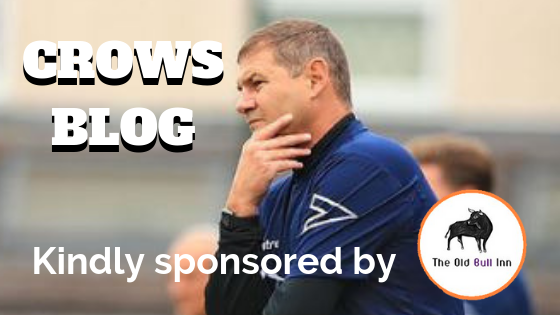 CROWS BLOG: Can't win 'em all!
CROWS BLOG: Can't win em all!
Hi,
A slight reality check for us high flying Crows as we put out an inexperienced team against St Albans in the Herts FA County Cup last night and got beat by 2 goals to 0!
In truth, we didn't deserve to get anything from the game, mainly due to the fact that we hardly had any shots on target and our sloppy play in the attacking third. There were some positives for me. I thought that Adam Crowther grew into the game and got to terms with a very good opposition centre forward. Dan Brathwaite looked like he'd never been away and Taylor Parr,  although I know he was slightly disappointed in his performance, I would contest that and say that considering his long absence, he also is progressing very well.
So not all bad, there were plenty in the squad from Saturday's match had 'killed em' so most had a rest night to recover. At times football is unfair to some of the players who not getting regular football. They get their opportunities at times that are not always in ideal circumstances but unfortunately, that's life!
What I look for in this scenario is their attitude, their ability to be strong mentally and to get as much out of the game as they possibly can. Yes to compete but more importantly for me the ability to do their jobs. What do I mean by that?
Well for argument's sake let's say centre-halves.  They have to perform the basics very well – head the ball, tackle, command their area and distribute the ball effectively. All positions will have similar requirements, both offensive or defensive and as in the case of midfielders both!
Last night it didn't quite happen going forward, we had a couple of players up there who were both young and inexperienced so it wasn't unexpected but even so individually our offensive players need to know they have to complete their job. They do get most of the 'glory' by scoring or assisting but that comes at a price and they set themselves up for criticism if they're not doing it!
But as I've said it's not the end of the World. It would have been nice to get to a final but with us now pretty much having to play 2 games a week, we couldn't realistically push on 4 fronts. ( League, FA Trophy, County Cups, both Senior and Charity)
On to Saturday and a local derby away to Hitchin Town. They will be desperate to upset us and we will have to be ready for a tough encounter. Then on to next Tuesday where we have another derby this time at home against Biggleswade Town. Win both of those and it keeps us right up there in the League. Let's hope that we have all of the squad to pick from, or at least as many as we can!
Cheers
Steve C
The CROWS BLOG is kindly sponsored by The Old Bull Inn
THE OLD BULL INN, a traditional 16th-century inn,  is located at 56 High Street, Royston, SG8 9AW and is the perfect place for both rest and rejuvenation. Whether you are staying in one of their comfortable en-suite rooms, cosying up around the open fire with a drink, dining in their restaurant or hosting an event in one of their function rooms The Old Bull Inn is sure to exceed your expectations!