Opposition View….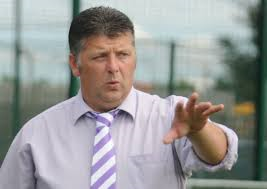 Darran Foster, Daventry Town FC
Hi Darran and thank you for talking to www.roystontownfc.co.uk about last weekend's game.


Firstly, you must be delighted on the victory, the performance and the clean sheet against the seasons 2nd favourites?
Of course very pleased with the result, we always knew it would be a tough game against a Royston side heavily tipped to go well. Very pleased with the way we started and the tempo we kept up helped us gain the upper hand, not being disrespectful I thought we should have been out of sight by half time. Young George Lawton was on fire and deservedly picked up MOM.

Did the tactics employed by the Crows surprise you?
After last season we probably expected Royston to play more football than they did, although with the summer signings of Mason and Hammond at the end of last season I can see why they are more direct. They are two very good strikers and powerful and you play to your strengths.
What are your feelings on the two controversial incidents in the second half, firstly involving your player and retaliation and the sending off. The right decisions?
The incident involving Congy was a bit pathetic to be honest , granted he should not have approached the lad but everyone in the ground could see he never head butted the lad . The sending off could have gone either way, I have seen refs give Reds and Yellows. I spoke to the ref afterwards and he said it was simply 2 feet off the ground towards the player, intent is as bad as the tackle by all accounts.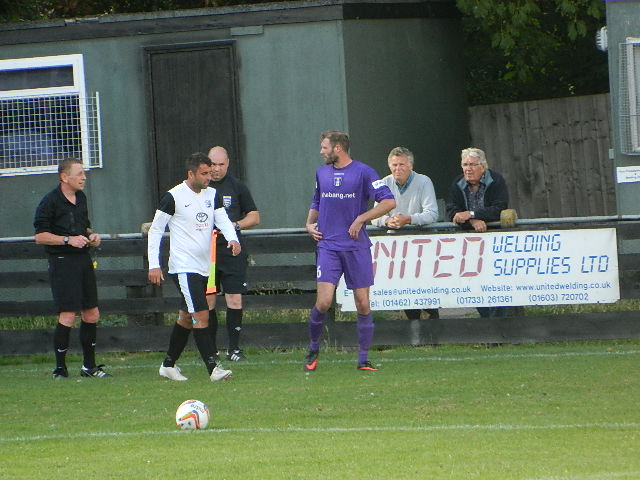 Robbie Nightingale and Adam Confue…. Handbags at dawn??
You mentioned on the phone about the Royston Goalkeeper George Lawton, what did you make of his performance?
Personally the boy was superb, he made a cracking save after 2 minutes and never stopped making them all day. A very confident keeper whose shot stopping ability was superb and handling very good against some big lads.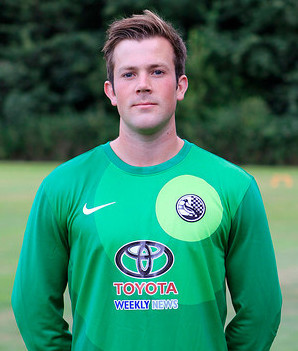 George Lawton, Man Of The Match and deserved…..
Many people are surprised to see Daventry Town top of the table are you surprised yourself?
Not at all, keeping 13 players from last year was key for us, they have all taken basic wage cuts and now get bonus structured payments as a team not an individual. We have bought in 4 new faces of which Joe Colman has suffered a bad knee injury so will be missing for a while. Our form at the end of last season was very good and we took points off 99% of the top 7. 10 draws last year was our downfall and this year we just need to turn them into wins. I have a honest hard working bunch of lads and in any league that is hard to beat.

Your team has been described as very fair but physical by some journalists, do you think that is a fair description?
I could probably agree with that, I have some big lads so it probably looks a bit worse than it really is.
You now have a break from the league with the FA Cup on Saturday, does that disrupt momentum?
I'd like to think not, as a club we need to do well so it's important to keep the momentum going whether its league of cup.
On yesterday's performance from the Crows, how do you think we will fare?
Let's be honest Royston were missing 3 or 4 big players and losing Craig so early did not help. I honestly didn't think they were far away last season so very surprised with the amount of changes and the style of play. They need to gel and then I'm sure they can look top 6.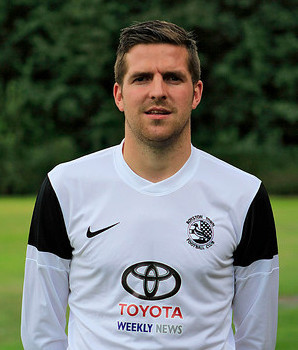 Craig, a big loss on the day!
And apart from the result, how did you enjoy your time at Garden Walk?
After last year I was looking forward to my visit, a lovely ground with lots of character. Not to forget the lively supporters of course, very passionate.
Many thanks Darran for taking some time out and good luck for the rest of the season.
Many thanks Jez
Fozzy.
Interviewed by Jez Izod