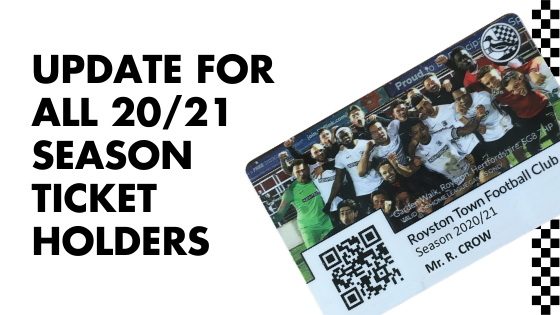 UPDATE FOR ALL 2020/21 SEASON TICKET HOLDERS
UPDATE FOR ALL 2020/21 SEASON TICKET HOLDERS
As you may be aware the 20/21 Pitching In Southern League Central Premier Division season has been declared null and void due to the ongoing Coronavirus pandemic. As a result, The Chairman and Board of Royston Town FC have decided that any 20/21 season tickets will be valid for the upcoming 2021/22 season.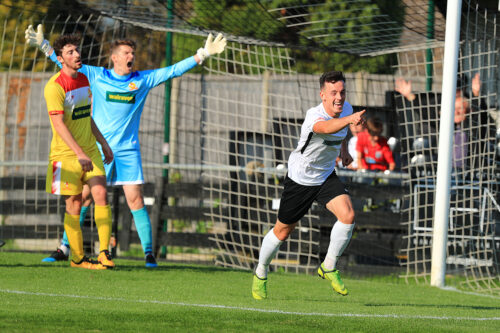 Although we managed to host 4 home league fixtures before the season was curtailed, we have decided to offer FULL season tickets for next season to existing season ticket holders at no extra cost. This offer also applies to those keyworkers who were awarded a free season ticket as part of our successful 'Keep the Crows Flying' crowdfunding campaign.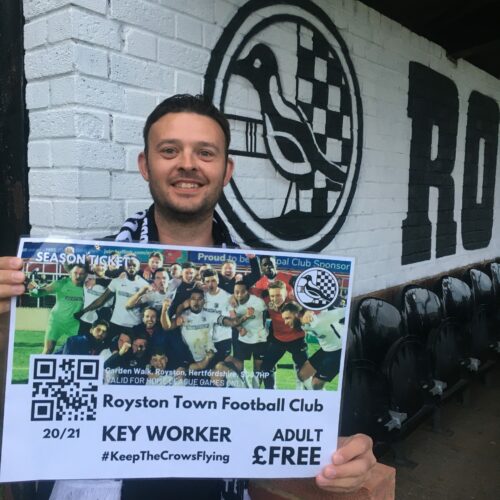 We have also been very touched to hear from a number of season ticket holders who have volunteered to make personal donations to the club to help offset the loss of ST revenue for the 2021/22 season. The Club is very grateful for these very kind and generous demonstrations of support. If this is something that you would also like to do please contact us at marketing@roystontownfc.co.uk
If, however, you would prefer to receive a refund on your 20/21 season ticket please email marketing@roystontownfc.co.uk or contact Alan Barlow with your full name and contact telephone number. We will then contact you to arrange your refund.
We sincerely hope that the options offered above provide you, our loyal and valued supporters, with a fair resolution.
We look forward to welcoming you back to Garden Walk as soon as it is safe to do so but until then…
Stay safe and as always "COME ON YOU CROWS!"