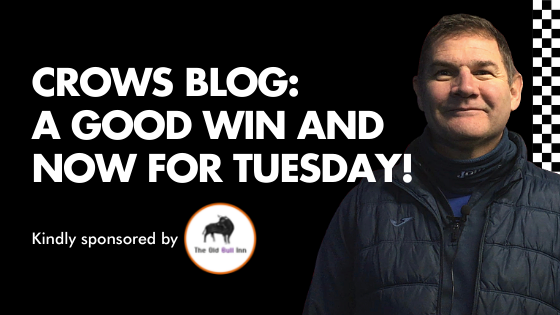 CROWS BLOG: A GOOD WIN AND NOW FOR TUESDAY!
CROWS BLOG: A good win and now for Tuesday!
Hi all.
It's been a while since we have won a game as emphatically as we did on Saturday and, boy, it feels good!
The players seemed to start fresh and bright and were on the front foot from the get-go. This attitude really paid off for us and we created a number of good opportunities early on!
Before the game, as on a number of times previously this season,  our selection of players didn't run as smooth as we would have wished. James Brighton failed a fitness test before the game but thankfully Carl Mensah passed a fitness test – so one out of two! Add in our current suspensions and pre-existing injuries and we were really looking depleted! However, the boys who did make the line-up did us proud and got the result we needed.
But now our attention turns to our 'biggy' – a League Cup Semi-Final! With all due respect to the County Cups, other than the FA run ones (FA Cup and FA Trophy for us) this is the biggest cup competition we take part in! The cup is contested by all clubs in the Southern Football Leagues. Up until the last round we have been drawn at home for all of our games but the last tie against Walton Casuals away was a tough one but we managed to get through.
Thankfully the draw was kind to us and we were drawn at home to Rushall Olympic. They are on a tremendous run at the moment. They are currently 2nd in our league and are on a run of 19 games undefeated! It's sure to be a cracker under the lights at Garden Walk on Tuesday.
It would be great to get a real bumper crowd to cheer on the team on Tuesday night. I know that it's half term week so to the younger crows – bring Mum and Dad down and cheer us on, please! And for all those Crows that attended our Trophy games a couple of years ago your support helped make a difference then and it can do so again! You guys can make such a difference so please come along on Tuesday night and get right behind us if you can!
Cheers,
Steve C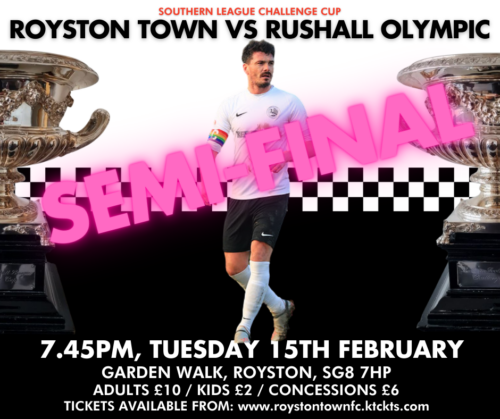 The CROWS BLOG is kindly sponsored by THE OLD BULL INN, a traditional 16th-century inn,  located at 56 High Street, Royston, SG8 9AW and is the perfect place for both rest and rejuvenation. Whether you are staying in one of their comfortable en-suite rooms, cosying up around the open fire with a drink, dining in their restaurant or hosting an event in one of their function rooms The Old Bull Inn is sure to exceed your expectations!