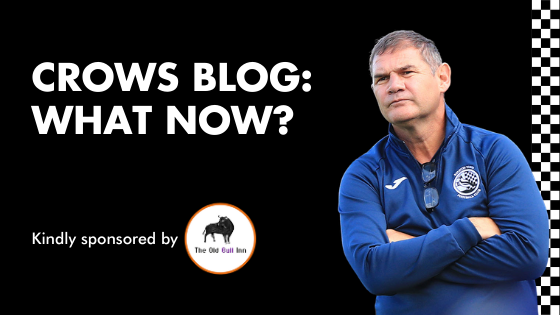 CROWS BLOG: WHAT NOW?
CROWS BLOG: WHAT NOW?
Hi,
A rather solemn coach journey coming back from Brackley last night but one that when the dust settles and we can look at the result calmly we can say we took a team a level higher than ourselves all the way!
We didn't get off to a great start in the game, going 1-0 down after a minute and then finding ourselves 2-0 down just 10 minutes later. But fair play to the boys for getting themselves back into the match to bring it back to 2-2.
Unfortunately, another mistake by us cost us another goal but again the players kept going, getting a penalty. Brandon's penalty was saved and from there on in we struggled. The difference in fitness levels showed and however we try and dress it up, we as a step 3 team have had a month off whereas step 1 and step 2 have carried on playing and are obviously fitter and sharper than ourselves!
All things considered, we gave it a go and I'm sure they thought they were getting an easier match than that!
So what now???
Still no Southern League campaign as yet. Yes, we can train but for what?
The players have been incredibly resilient in these strange times and have generally kept themselves in good nick but playing competitive games regularly is the only real way to keep up to date with match fitness and we need that. There's no real issue if ALL teams are in the same boat but when there's an imbalance it's just not right!
Hopefully, we can get everything going again soon.
Cheers and take care,
Steve C
The CROWS BLOG is kindly sponsored by THE OLD BULL INN, a traditional 16th-century inn,  located at 56 High Street, Royston, SG8 9AW and is the perfect place for both rest and rejuvenation. Whether you are staying in one of their comfortable en-suite rooms, cosying up around the open fire with a drink, dining in their restaurant or hosting an event in one of their function rooms The Old Bull Inn is sure to exceed your expectations!