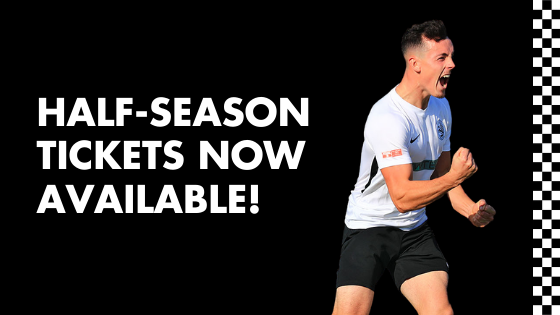 2021/22 HALF-SEASON TICKETS NOW AVAILABLE
2021/22 HALF-SEASON TICKETS NOW AVAILABLE
We are pleased to announce our 2021/22 HALF-SEASON TICKET offer! Supporters can now buy a Half-Season Ticket to ensure they don't miss a moment of the remaining action in the PitchingIn Southern League Premier Central Division
Depending on your eligibility you could save up to 50% on our published matchday admission prices!
Despite making a mixed start to the 2021/22 season, your support could help the Crows push on and deliver a strong second-half to the season and make a real push for the Play-Offs.
Your HALF-SEASON ticket will kick-off with our HOME tie against Bromsgrove Sporting on Saturday 4th December. Mouth-watering League clashes against local rivals St Ives Town and Biggleswade Town as well as our festive clash with Hitchin Town are also included. Other fixtures included in this offer are games against AFC Rushden & Diamonds, Leiston and an exciting head to head with title-chasing Peterborough Sports!
HALF SEASON TICKET PRICES:
Adult Half-Season Tickets £80 – a saving of up to £20 (20%) on Match Day admission prices
Concession price just £45 – a saving of £15 (25%)
Kids tickets are only £10 – a saving of £10 (50%)
As a Season Ticket holder you also become a member of the Royston Town Supporters Club which gives you:
Free entry to Reserve/Youth Team matches
10% discount on Clubhouse hire
A further benefit is that season ticket holders are also able to attend and vote at the Club's AGM.
Don't delay in securing your Half-Season Tickets by clicking here.