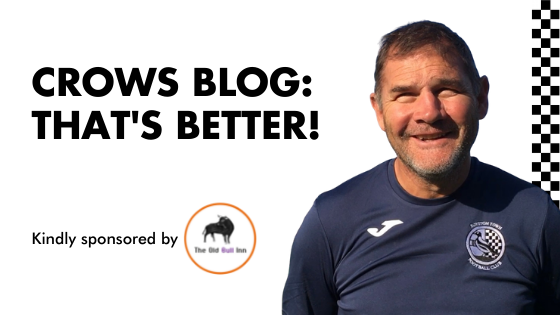 CROWS BLOG: THAT'S BETTER
CROWS BLOG: THAT'S BETTER
Hi Guys,
It's taken us a little while to get the elusive 3 points in the League but credit to the lads. They showed a great amount of character on Saturday to get the win.
Some might say that Hednesford's ill-discipline helped us and obviously it did but that shouldn't distract away from the attitude of our boys. They started on the front foot and got ourselves in the lead very quickly. We didn't let up and for a little bit more composure in front of goal could and should have got more goals. In fairness, our opponents fought back and had a couple of opportunities themselves.
Into the second half and maybe because of previous games, I thought that we took the intensity down a bit, mainly because we kept the ball a lot more which was good. We all want our lads to be 'barnstorming' and blow teams away but with all the previous circumstances it was pleasing to see a good assured performance.
To our advantage, they had 2 lads sent off in pretty quick succession which obviously helped our cause. Some might argue that we should have pushed for more goals but the result was all-important for us. Let's not forget( and I'm not moaning) but we had so many lads out due to injury or illness, so from the start we were a little 'backs to the wall'.
On to tonight and in my opinion probably one of our hardest matches against Needham Market. They always tend to do very well against us so full focus again please lads!
I want to make a quick mention of and officially welcome our 2 new recruits in Rhamar Garrett-Douglas and Marcus Goldbourne. Both made their full debuts on Saturday and I thought both played very well.
So in summary, a little bit brighter in the Royston camp, but still having to deal with a lot of absences but hey ho! We keep going.
Once again thanks for the support. It is always welcome but especially when things are not quite going our way.
Cheers
Steve C