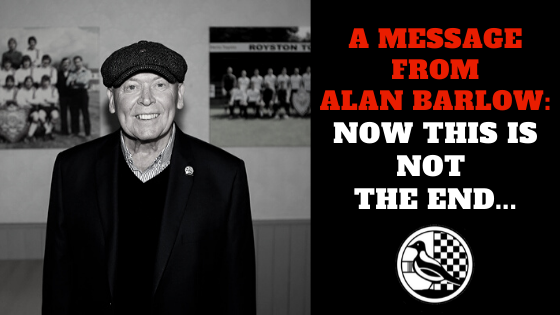 ALAN BARLOW: Now this is not the end…
'Now this is not the end…….'
Given the current challenges we face with Covid-19 the decision to declare our season 'null and void' really does  raise the questions – Does it really matter, is football that important in our lives?' On one level the simply answer is a resounding 'No!' However, I think this season possibly more than any other I've been associated with at Royston Town will go down as our most memorable and inspiring – even if it's never officially recognised in the record books,  but best summed by Gareth Hillier in a recent twitter post:
'Its scant consolation, but as a fan the FA can't 'null and void' all the awesome memories we've had this season'
It has been, for me, the season when Royston Town FC came of age which may seem a bit of an odd thing to say for an organisation which has been around since 1875!  Where ever you look across the Club's activities we have progressed to new heights not least with the performances in both the FA Cup and FA Trophy but with putting ourselves in a great position to get promotion to the National League. All season long Steve Castle and Chris Watters have talked about the importance of engendering a 'squad' mentality and I've no doubt that has been one of the key ingredients in our success and it's something I don't really think we've ever truly achieved before.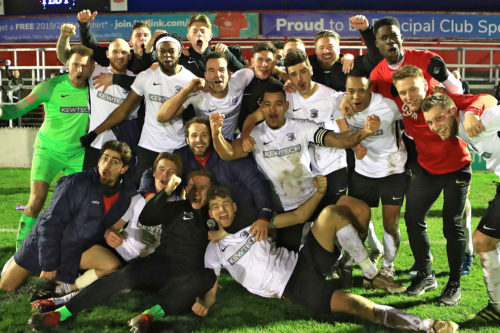 The response this season from the community of Royston has again been incredible – underpinned by the active engagement of the players, supporters and volunteers of Royston Town Youth FC –we have seen record attendances and Royston fans have found their voices.  I'm sure all of the players must feel how different the atmosphere has been this season and they have embraced it both on and off the pitch. Just brilliant to witness.

Our Community Development programme sits right up there amongst one of the best in this region and we have delivered pioneering programmes amongst our schools and community groups – other clubs are looking at us one of 'market' leaders in this area.
In the area of our social media presence, we have elevated all of our activities and exceeded all expectations in our followings on Facebook, Twitter, YouTube and overall website content – this has been unrecognisable compared with previous seasons and I'm sure will only get bigger and better.
I could go on, but I run the risk of boring you all.  Whenever the new season kicks off we must build on where we left off and go again. It will not be easy and the financial environment we will have to work within will be at its most challenging. We will need the same spirit of 'togetherness' that the nation is currently displaying in the face of Covid-19. It is why I have borrowed that famous wartime quote from Winston Churchill –
'Now this is not the end, it is not even the beginning of the end….'
Come on You Crows!
Alan Barlow
President