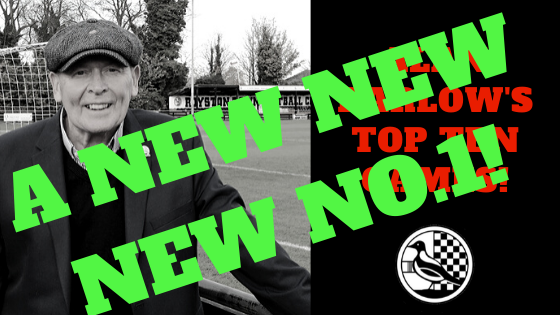 Alan Barlow's TOP TEN – A NEW NEW NEW NUMBER 1!
After the Chester game, I ended my 'New, New Number One' post saying that I was looking forward to reporting on a 'New,New, New Number One' after the last sixteen game – well you didn't let me down lads!
Although it wasn't a classic in footballing terms Saturday's game against Ebbsfleet United showed us all what a gutsy determined and fearless squad we have which again has produced another historic result for the club.  In the first half, I was sat amongst a very vocal group of Ebbsfleet supporters who were chanting 'You're just a small team from Cambridgeshire'  – I did remind them that their geography was a tad incorrect. As it turned out our so-called small team from Hertfordshire proved once again far too 'big' for them when it came to delivering the killer blow!
It was an absolutely outstanding performance from the whole team. However, there was an even bigger and better performance from our travelling supporters.  I don't know exactly how many Royston fans went to the game but it must have been well in excess of 250 – maybe more! The vocal backing they gave the team was second to none. They were, judging by the comments coming from our players after the game, a major ingredient in winning the match.  Having deserted my Ebbsfleet 'colleagues' to stand at the 'Pop' end in the second half and through into extra time it was a joy to just soak up the atmosphere created by our supporters particularly at the end of the game  – thank you one and all.
So what now? Well, hopefully, a home draw for the quarter-finals. I don't really care who we play.  Beyond that, I'd take great pleasure in posting a 'New, New, New, New Number One' after that game!
COYC.
Alan Barlow
President'