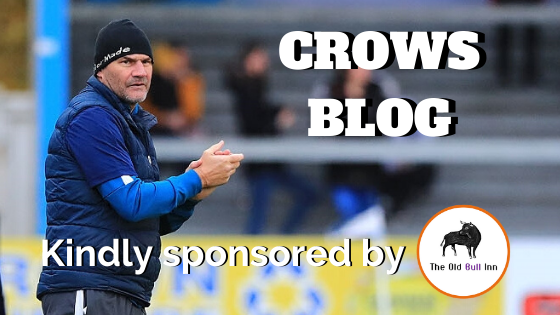 CROWS BLOG: WOW WOW WOW!
CROWS BLOG: WOW WOW WOW!!!!!
Unbelievable!
The boys pulled through once more!
This time it wasn't plain sailing.  The football was poor in most parts from both teams, mainly down to a poorish pitch but also possibly the occasion where both teams obviously didn't want to give much away but at the same time were maybe a bit hesitant to play free-flowing football. Totally understandable. I thought we did ok to a point but we didn't really look too much of a threat at the 'business end' of the pitch.
It wasn't too much of a surprise then that the tie went into extra time. A couple of minutes into added time and we got ourselves ahead, even then it wasn't conclusive until the linesman confirmed it had gone over the line! Cue mayhem on the sidelines!
Big Josh Oyinsan – welcome back, son!! And what a way to mark your return! Unfortunately for Josh, his lack of match minutes caught up with him and he pulled a hamstring not long after and had to be replaced. Hopefully, he won't be out for too long but not ideal for us or him.
So we're 1-0 up and have 25 minutes to 'hang on'. Ebbsfleet pushed the tempo up a bit more and with our boys going down with cramp or pulls, things were getting increasingly difficult for us. At this point, I must compliment all the substitutes that came on. They all worked tirelessly – Greeny (Dan Green), Josh Oyinsan,  Brandon Adams and Luke Warner-Eley all came on and contributed massively! That just shows what a squad this is!!
So we got to the second half of extra time 1-0 up but our energy levels were alarming low. Ebbsfleet were also feeling the pace but it did seem like our boys were going down more frequently than theirs. There weren't any real chances but it did seem like they were slowly getting on top. They had a couple of crosses and one real shot that Joe Welch pulled off a great save from.
Then with 2 or 3 minutes of extra time remaining, and after we had an incredible opportunity to put ourselves 2-0 up, we had one more try, this time Matt Bateman slotted it away and the tie was all but over!
There were amazing scenes after. The superb support from you 'Crows' was matched by the celebrations and wow what a day to remember! Through to the quarter-finals of the biggest Non League cup! Well done to one and all!
At this point, I'd like to thank everyone that attended the game and even the supporters that didn't. The positive vibe that is around the club at the moment is amazing!
What I do find unusual is at this stage of the FA Trophy we are not the lowest-ranked team! I find that incredible and fair play to both Aveley and Halesowen Town for also getting this far!
So a dilemma for the draw on Monday, who would we rather get? A lower-level team or another 'big team'? At this point, I honestly couldn't give you an answer. A home draw for me would be fantastic! But what type of opposition? I couldn't answer that.
We're back in action on Tuesday in a Hertfordshire FA Senior Cup Quarter Final game away to St. Albans City. Normally this competition would be a big priority in our season but with all due respect to the competition we have loads of injuries so will have to adjust things a little. Don't worry though, as ever we will compete as we always do!
Up the Crows!
Cheers
Steve C
The CROWS BLOG is kindly sponsored by The Old Bull Inn
THE OLD BULL INN, a traditional 16th-century inn,  is located at 56 High Street, Royston, SG8 9AW and is the perfect place for both rest and rejuvenation. Whether you are staying in one of their comfortable en-suite rooms, cosying up around the open fire with a drink, dining in their restaurant or hosting an event in one of their function rooms The Old Bull Inn is sure to exceed your expectations!