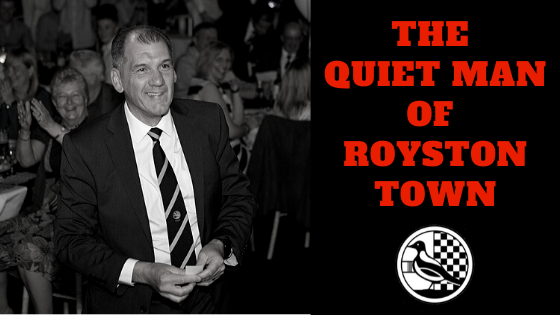 Steve Jackson – The Quiet Man of Royston Town
Steve Jackson – The Quiet Man of Royston Town
Without taking anything away from the immense achievements so far this season from Steve Castle, Chris Watters and their superb squad of players, a reverential nod must go to one man who quietly, behind the scenes, provides the solid foundations for Steve and Chris to deliver the dream.
Steve Jackson is not your usual Chairman of a non-league Football Club – not many are seen to get involved with organising coach travel, ensuring kit is correct, over-seeing pitch and club site maintenance, helping with parking for Under 18 games and numerous other unseen vital jobs to keep the Royston Town swan gliding through the glorious cut-throat murky pond that is lower league football.
Mr Jackson provides essential funding to keep the club solvent and the first team squad competitive, encourages the Club's burgeoning community programme, whilst not pursuing the sometimes ego-fluffing response that some other nameless individuals seek.
At this time of unprecedented club success take a moment to shake Steve's hand because that is all the acknowledgement he is seeking.
Long may it continue!
EDIT
Alan Barlow, Club President adds:
"It's a real pleasure to see the tributes to our Chairman posted recently both on the website and our social media channels. Steve is someone who I've worked with since he joined the Board in 2008, and a guy who when he joined us said to me  "I'm not really sure how the club operates or what contribution I can bring" . Well there's no doubting the massive contribution Steve's  made, not only to our success on the field but in your leadership of all of the Club's activities. However, always remember that behind that 'Quiet man of Royston Town' persona lies someone with a steely determination to get things done in an effective manner -he is very capable of making some very tough decisions which at times might ruffle a few feathers but his focus is always on 'What's best for Royston Town'."