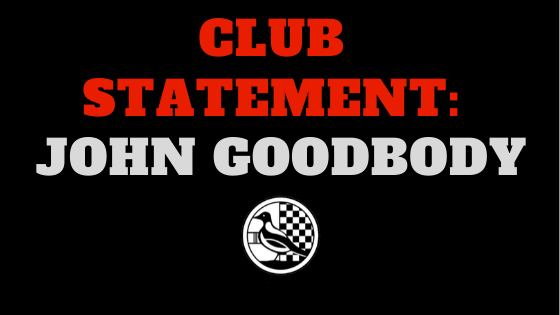 CLUB STATEMENT: John Goodbody
It is with much sadness that the Club has learned of the death of John Goodbody who played for Royston Town in the immediate post-WW2 years and well into the late 1950's and early 1960's.
I never had the pleasure of watching John play but he made his name as an excellent right-back starting with his appearances with the what was then the forerunner of our Youth Team, the 'Royston Minors', in 1949/50 and going on to play for both our Reserves and First Team. However, I did get to know John very well in later years as every Saturday lunchtime he would meet up at the Club with our ex-groundsman, Bill Shepherd, for a couple of pints of his favourite tipple, IPA. It was during that time when I was in the process of writing my book on the history of Royston Town that he provided me with many insights on what it was like to play and be involved with the Club in that post-war period. I always thought of John as one of those mild mannered individuals who typified all the best values of his era and those who saw him play have told me he was a highly talented and tenacious footballer. On behalf of everyone at Royston Town, we send our sincere condolences to all of his family and friends.
The Club will be holding a minutes silence ahead of our home game against Hednesford Town on 22nd February when some of John's family will be in attendance.
RIP John
Alan Barlow
President'