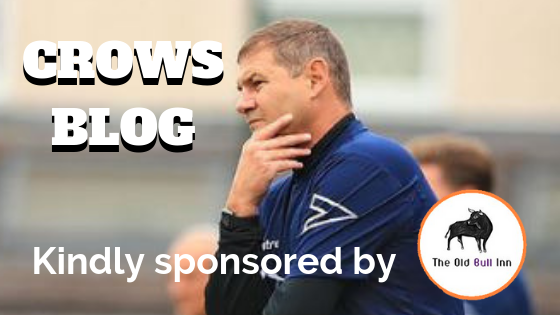 CROWS BLOG: 1 gained or 2 dropped
The CROWS BLOG is kindly sponsored by The Old Bull Inn
CROWS BLOG: 1 gained or 2 dropped
Hi there,
Anyone attending the Coalville Town home match on Saturday may or may not agree with the following comments but they are my views and, as ever probably, there to be discussed amongst everyone over a beer or two.
We got a point but most would probably consider that it was 2 points dropped instead of a point gained mainly due to the fact we went in front and should have doubled our lead by half time. A half that was 'workmanlike' but not as full-flowing as we have previously shown. To be truthful it's a bad habit that we seem to have picked up at home and it's one that we need to get out of quickly!
We seem to start brightly enough -working hard against the slope/conditions (weather in our first home match!), then get ourselves into a healthy position (1-0 up today, 2-0 up against Alvechurch) and then for some strange reason we don't finish the game off sufficiently enough for my standards! Why???
Well, if we knew the answer to that then we would try to correct it.
The boys are a tremendous set of players. I don't believe that they are 'big-time players' that go into cruise control but I do feel that a little anxiety comes in and we don't know how to manage games in our favour. It's something that we will be working on ASAP. No teams in this league are ever going to make things easy so it's up to us to take the initiative and act as positively as we possibly can.
That said, it is another point gained – making 7 points from 4 games. Not a bad return but it's really important that we get something from our Bank Holiday Monday trip to Lowestoft Town next!
The League is now in full swing and we will be competitive as per usual. It would be nice if we didn't have as many injuries as we currently have and also a couple of suspensions to boot. Hopefully, that will stop and we'll soon have a full squad to pick from.
Finally, I'd like to make a quick special mention to a couple of returning players! Ryan Ingrey got some minutes against Coalville which I was delighted with and Spyros Mentis is back from a break in Greece. He played a part in today's match after only coming back last week and has already played in 2 Reserve matches and has now got half hour in a 1st team game under his belt! Well done lads, it's good to have you both back!
Cheers
Steve C
THE OLD BULL INN, a traditional 16th-century inn,  is located at 56 High Street, Royston, SG8 9AW and is the perfect place for both rest and rejuvenation. Whether you are staying in one of their comfortable en-suite rooms, cosying up around the open fire with a drink, dining in their restaurant or hosting an event in one of their function rooms The Old Bull Inn is sure to exceed your expectations!