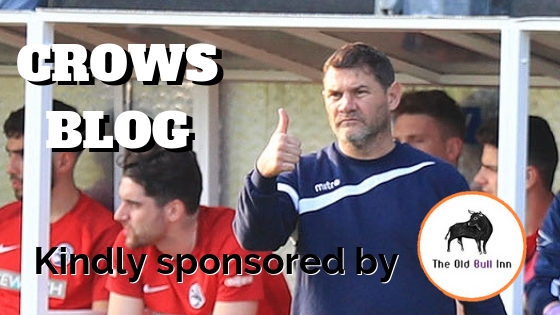 CROWS BLOG: Encourage the positive
The CROWS BLOG is kindly sponsored by The Old Bull Inn
CROWS BLOG: Encourage the positive
Hi everyone!
A good day to report at a very hot Lowestoft with us Crows winning the match 1-0 but to add to that a very convincing win that should have been by a larger margin in my opinion.
Lowestoft to be fair to them can look at it and say they had a couple of near misses themselves but, over the 90 mins, we not only controlled possession but created chance after chance that probably should have been dispatched by our front boys mainly! I won't be criticising the front line, both have shown they have excellent finishing qualities and I'm sure they are as frustrated as we all are. but they will score goals between them for sure. Their general attitude since coming here has been superb and long may that continue. One thing I'm pretty sure of is that if we can continue to create as many goal-scoring opportunities as we did on Monday, then more of them will be taken by us!
Overall 5 games played – 3 won, 1 lost and 1 draw! Not bad but could have it been better? For sure it should have! The Coalville match was a missed opportunity to get maximum points but we learned from it so it's ok!
Banbury was an unusual one in as much as once we had got to terms with their approach, I'm sure that had we kept 11 players on the pitch then an equaliser was on the cards!
For me just in one period of games, all the variables of a season have come to the fore –  discipline, quality, guile, know-how, experience and fitness.  All of these are among some of the elements needed to be excelled at if we want to win the League. It's still very early days in the campaign but with us already in double figures then we can be reasonably pleased with our efforts so far. As a coaching staff, we will look to minimise any negative elements and encourage our positive ones!
I do believe that these next 6 weeks will be very important in the 19/20 season. We have matches away to AFC Rushden & Diamonds and also to Stourbridge and Hednesford. Each of these will be very testing. Here's hoping that with us keeping our injuries to a minimum and our general skill levels high that we can do more than just compete at the higher end of the table!
Cheers
SC
THE OLD BULL INN, a traditional 16th-century inn,  is located at 56 High Street, Royston, SG8 9AW and is the perfect place for both rest and rejuvenation. Whether you are staying in one of their comfortable en-suite rooms, cosying up around the open fire with a drink, dining in their restaurant or hosting an event in one of their function rooms The Old Bull Inn is sure to exceed your expectations!