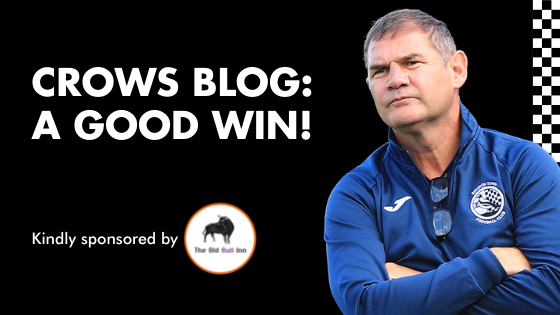 CROWS BLOG: A GOOD WIN
CROWS BLOG: A GOOD WIN
Hi everyone!
As the title of this blog states, last nights 3-1 win over Lowestoft Town in the League Cup was a good win but, in my opinion,  it was not a good performance. We really struggled to get going last night.
In fairness had one or two of our early chances gone in, then we may have calmed down a bit and played a lot better. It's a bit of a cliche that goals definitely change games but a very young Lowestoft team kept us on our toes to the very end.
At the end of the day, we are all about results and yes we'll take last nights victory all day long but as you are all aware, I try to look at everything and assess from there. We did make a few changes in personnel with some lads being rested and others coming in to get valuable minutes under their belts. So it was natural that we were a little disjointed but we definitely had enough on the park to win the match at a canter. Football matches, obviously. are never won on paper and as I've already said our opponents made life hard for us and, at times, we just couldn't break them down.
Once again, I was really pleased with the performance of our goalkeeper Ollie Williams. I thought he deserved a clean sheet and for most of the match, he was extremely secure in goal.
We now have an unusual situation in that we have no game this weekend due to the odd number of clubs in our division. A perfect opportunity to take the time to push the reset button. Get everyone rested up and refreshed as I do feel that these last few weeks have been a real slog. We have had a lot of big games recently and they have been coming thick and fast and, unfortunately, we've not always got the results we wanted or perhaps deserved. It's been hard both physically and mentally and then after this little break, it all starts again. Next week we face Barwell at home on Tuesday night. We then follow that up with a tough game against Kingstonian in the next round of the FA Trophy the following Saturday (13th November), closely followed by a trip to Peterborough Sports on the following Tuesday. These are the types of games that we, as footballers live for. S0 –  these are exciting times and we still have plenty to prepare for.
My message to the squad is – rest up lads, we go again very soon!!!
Cheers,
Steve C
The CROWS BLOG is kindly sponsored by THE OLD BULL INN, a traditional 16th-century inn,  located at 56 High Street, Royston, SG8 9AW and is the perfect place for both rest and rejuvenation. Whether you are staying in one of their comfortable en-suite rooms, cosying up around the open fire with a drink, dining in their restaurant or hosting an event in one of their function rooms The Old Bull Inn is sure to exceed your expectations!