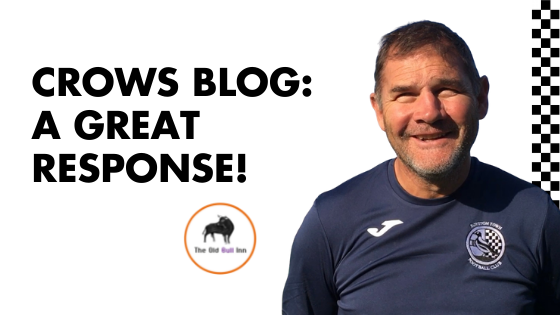 CROWS BLOG: A GREAT RESPONSE
CROWS BLOG: A great response
Hi everyone,
I'm pleased to say that you are hearing from a very pleased manager today – reflecting on a good win but, to be honest, it was so much more than that!
The last few weeks have been tough.  We've had a lot of travelling midweek which is always a killer and faced some very good opposition. In addition that we've had the absences of Joe,  Brandon and Issa and you can, hopefully, see what I mean. I'm not complaining but just stating the facts. All teams will, undoubtedly, be having similar issues to us and so we're by no means alone but probably putting everything into context and not getting too carried away emotionally either way.
For me the keyword to come out of this is consistency. At times, we have more than matched our opponents but only for about 20 minutes, or possibly 35, 40 at a time but never for the duration of a 90-minute game. Obviously, the million-dollar question is why?  I have my thoughts on that but those are not to be aired publicly – sorry! However, what I do know is that the players worked their socks off on Saturday to achieve the result. Our performance levels throughout the game were high and I feel that the 'consistency' that we are looking for was much more evident.
Once again I want to pass on a big thank you to everyone coming down and supporting us. The players and staff really do appreciate it.
On to Tuesday night and another home tie – this time a league cup game versus Lowestoft Town. They turned us over a couple of weeks ago so a chance to right that would be good.
Finally, I want to wish a speedy recovery to Sammy Edgar, a member of our Women's team, who suffered a head injury on Sunday in their game at St. Ives – Get well soon Sammy!
Speak soon,
Steve C
The CROWS BLOG is kindly sponsored by THE OLD BULL INN, a traditional 16th-century inn,  located at 56 High Street, Royston, SG8 9AW and is the perfect place for both rest and rejuvenation. Whether you are staying in one of their comfortable en-suite rooms, cosying up around the open fire with a drink, dining in their restaurant or hosting an event in one of their function rooms The Old Bull Inn is sure to exceed your expectations!