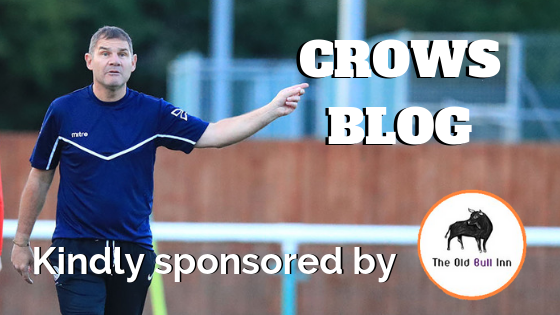 CROWS BLOG: A happy camp
The CROWS BLOG is kindly sponsored by The Old Bull Inn
CROWS BLOG: A happy camp
A happy camp, within the first-team squad this weekend after beating League leaders Rushall Olympic at home. A victory that wasn't full of free-flowing football but we showed our 'gritty' side to get a result when we weren't 'firing on all fronts'.  For me, it was very pleasing that the team stayed together, kept plugging away and showed plenty of character to eventually get the home win. The game certainly didn't go all our own way and fair play to our opponents, they came to us full of confidence and their early start would only have enhanced that feeling. Although we started ok ourselves, we quickly conceded.  It was a little unfortunate on our part, a deflection off Braths (Dan Brathwaite)  giving our returning goalkeeper, Harry Smart, no chance and rarely said this season, we had to come back from a 1-0 deficit.
As a coaching team, the general feeling was that we weren't expressive enough, we were a little too safe on the ball for our liking, I felt the boys took it on board to a degree and a wonderful forward pass from Dan Green lead to Gus Scott-Morriss scoring the equaliser. Although it did improve, and more chances were created we still felt at halftime that there were parts of our game that were not quite happening. If you don't mind we'll keep those thoughts within the confines of the dressing room but in a nutshell, not enough of our players were expressing themselves. We wanted more from them!
Second half and boy what a reaction! A superb finish from the excellent Matt Bateman put us ahead very early and probably the expectation was to carry it on and finish the job off. But, this is where I do feel we have to give our opposition credit, they were determined to stay in the game and they did, without creating clear cut chances but they stayed in the game and it made for a very nervy finish!
For me it was a weird feeling after the match, on one hand ( and I'm pretty sure Chris Watters felt the same) I wanted to sit the lads down and discuss how we made such hard work of it. But on the other, we'll settle for the fact that the resilience we showed was enough to get the win yesterday. The answer (after I'd checked that Chris was on the same page) was to say put the music on, get Tom the kit man in to shout the place down and enjoy the win!!!
We will play better this season and maybe not get a result but as I've said before these boys are a determined group. They can't hit the heights all the time but if they can keep their togetherness and superb team spirit that is currently being shown then we can go far!
At the moment I feel that there are a few lads carrying knocks and we've had a slightly depleted squad due to injuries and suspensions. We've had lads like Luke Knight, Taylor Parr, Ryan Ingrey and to a degree, Josh Castiglione unavailable up to now and to get them back in will strengthen us further. However, we have got the services of Spyros Mentis back quicker than we expected. Spyros is a naturally fit lad but with his injuries at the back end of last season and his unavailability up until to now he hasn't played football for the best part of 4 months! He's getting there and yet again he's another great addition.
Whilst we're talking about additions I must mention Harry Smart – 'H' has come back to us as No.2 to Joe Welch. We have always had a slight issue with Joe in that his work dictates that he has to be at work on the last day of every month. Most of the time it doesn't cause us too many issues but this year it has and he will miss a couple of games.  At the end of last season, Harry made the choice of trying to get regular first-team football elsewhere, although we were sad to see him leave we understood and wished him well. I don't think things quite worked out how Harry wanted and when I had an option on what to do in regards to cover for Welchy I dropped Harry a cheeky text and got a massively positive text back! It's great for us to have such a good goalkeeper back, but not only that H is a great lad as well.
So a game free week, a bit of rest for some, more game minutes for others and we begin our preparations for the next match! Yes the FA Cup!!
Bring it on!
Cheers
SC
THE OLD BULL INN, a traditional 16th-century inn,  is located at 56 High Street, Royston, SG8 9AW and is the perfect place for both rest and rejuvenation. Whether you are staying in one of their comfortable en-suite rooms, cosying up around the open fire with a drink, dining in their restaurant or hosting an event in one of their function rooms The Old Bull Inn is sure to exceed your expectations!