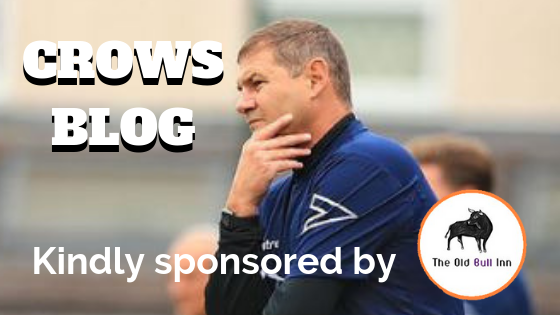 CROWS BLOG: A hard day at the office
The CROWS BLOG is kindly sponsored by The Old Bull Inn
CROWS BLOG: A hard day at the office
Hi,
I'm writing this on the way back from 'a hard day at the office'… one where we won, which is the most important thing,  but boy did we make such hard work of it!
As we always say, football is a results business but if we want to progress through further rounds then we definitely need to apply ourselves with more quality than we showed on Saturday!
I'm not even going to attempt dissect the game and analyse it here, quite simply too many good players played under par against Balham. However, I do want to add that our opponents did themselves proud and at times looked, especially when going forward, more than a match for us. The bottom line is that we're through and in the hat for the next round. For me, a tougher test in the next round would be welcome because I feel that we can rise to the challenge of that probably better than we do being favourites. In truth though, bring on whoever!
As I've said before our squad is good and competitive. And, if this is our blip and we come out of it winning 2 cup ties and drawing against a fellow front runner in the League then I'll take that all day long. The boys know! Hard work, hard work, hard work!
The quality is there and will rise to the surface again quickly!
Well done boys!
Looking forward to the draw on Monday and just as importantly our League match vat home against Tamworth this Saturday.
Cheers
Steve C
THE OLD BULL INN, a traditional 16th-century inn,  is located at 56 High Street, Royston, SG8 9AW and is the perfect place for both rest and rejuvenation. Whether you are staying in one of their comfortable en-suite rooms, cosying up around the open fire with a drink, dining in their restaurant or hosting an event in one of their function rooms The Old Bull Inn is sure to exceed your expectations!