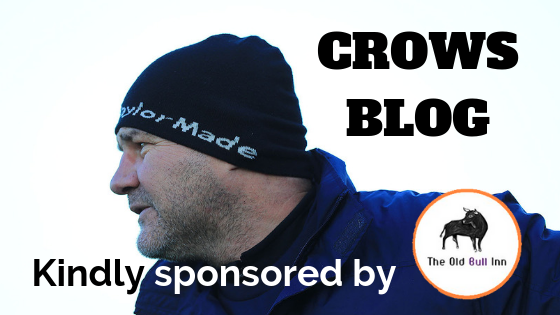 CROWS BLOG: Paying the price
The CROWS BLOG is kindly sponsored by The Old Bull Inn
CROWS BLOG: Paying the price
Hi there.
Saturday was a disappointing day to mull over, one that saw us losing by the odd goal to a solid Tamworth team. On chances created, we both had very few but the difference was that Tamworth dispatched theirs and we paid the price by squandering ours.
Recently, we have not really 'hit the heights' of our immediate start to the season, there have been injuries and they do disrupt things but it shouldn't be to the extent that we drop points.
Not through any fault of our own, but we found ourselves 8th in the League, due to some teams playing more matches than us, so for me, this was a must-win game to keep us right up there, contending at the top. However, I think at this moment I do need to give the opposition credit for their performance, it wasn't outstanding but they were clinical when they had to be.
Even with this defeat, we can still classify our start as reasonably good. We have a massive game next Saturday against Beaconsfield Town in the FA Cup but before that, we have a local tie in the League Cup against Welwyn Garden City to play. Obviously, this means that it will put us even more behind in the League but , equally, it will be good to progress as far in the Cup competitions as possible.
As with most campaigns there brings elements of good and bad sections of our general all-round play, we now have an advanced GPS tracker system that provides us with valuable data and helps us identify issues that need addressing. As the 'old man' of our staff, I see what I see but it is always nice to get it confirmed (or not!).  Our stats have told us that we haven't run as much as we have in previous matches, and that's concerning. Generally, we are an honest, hardworking bunch, and we need to get that back, lively!
And, I'm sure we will!
Cheers
Steve C
THE OLD BULL INN, a traditional 16th-century inn,  is located at 56 High Street, Royston, SG8 9AW and is the perfect place for both rest and rejuvenation. Whether you are staying in one of their comfortable en-suite rooms, cosying up around the open fire with a drink, dining in their restaurant or hosting an event in one of their function rooms The Old Bull Inn is sure to exceed your expectations!