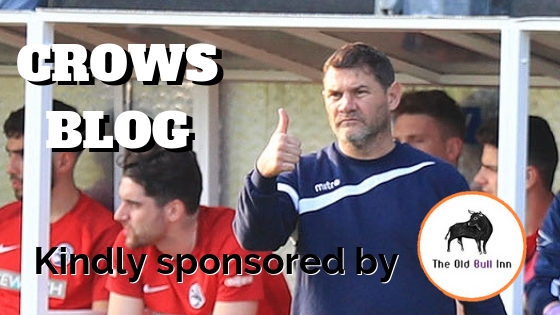 CROWS BLOG – A step in the right direction
The CROWS BLOG is kindly sponsored by The Old Bull Inn
A step in the right direction.
Hi there,
Another game, another fitness exercise.  The result was secondary but it was pleasing to get a clean sheet and 2 goals to boot against a more than useful Newmarket Town team. Great facilities and from our prospective generally positive displays by the boys.
Although we've been playing against lower level teams this last week, all of the games were worthwhile and I believe it was a good step in the right direction towards the start of our own campaign.
Trying a few new things out has been good and to have an option different from the norm is nice to have in the back pocket if needed! Once again,  I have to applaud the players in their attitude. They are generally looking fit and enthusiastic which is so important and it seems like the new lads have settled in well. All of them are really good lads to work with.
So, it's a rare weekend off but then its another hectic week starting with our Presidents Night friendly against Cambridge City at Garden Walk on Tuesday. We haven't got many home pre-season games so it would be great to see as many of our supporters there as possible.
Cheers!
SC
THE OLD BULL INN
, a traditional 16th-century inn,  is located at 56 High Street, Royston, SG8 9AW and is the perfect place for both rest and rejuvenation. Whether  you are staying in one of their comfortable en-suite rooms, cozying up around the open fire with a drink, dining in their restaurant or hosting an event in one of their function rooms
The Old Bull Inn
is sure to exceed your expectations!