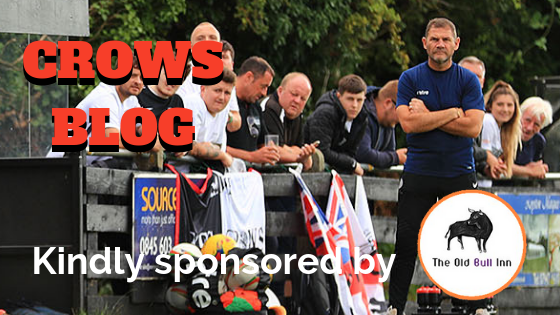 CROWS BLOG: A win's a win, right?
The CROWS BLOG is kindly sponsored by The Old Bull Inn
CROWS BLOG: A win's a win, right?
A win is a win!! That's what they say, don't they?
Not only a win but an extremely convincing one scoring-wise! Also because of it we progress to Second Qualifying Round of the FA Cup and all the spoils that come with it! BUT…. (Oh no he's not moaning is he!! Lol)
I honestly think that as a team we didn't actually play well! Yes, the finishing was excellent and full plaudits for that but I've asked the boys to look at the game again via our filming and look at actually how many times we gave the ball away or didn't do anything productive when we should have done. You may say that you feel that this is a harsh assessment but I can only tell you how both Chris and I felt after the match. I said this to the boys after the game, it's probably because they have set themselves such high standards thus far that when it just doesn't happen for them, then we need to address it – even after a resounding result that we have just had. What I can say about the group is that they are an honest bunch and generally I think that they saw where we were coming from but we did want to add that we are in the results business and that's what we got so it's all good.
Onto other things and obviously the first thing to mention is the signing of Joe Newton by Coventry City!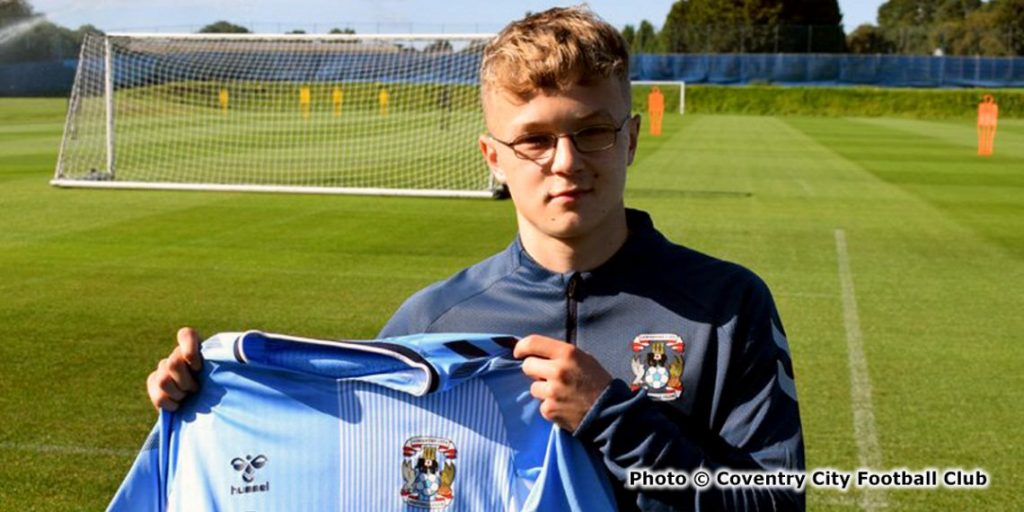 I'm sure I can speak for all of us by saying how pleased we are for him and to wish him all the best for the future! Joe is a top, top lad and has worked extremely hard to get this opportunity. I personally can not take any credit for his development, the man for that is Chris Watters.  Chris pulled me aside at the start of last season and said there was a lad at his Academy who was 'a bit special'. Joe was training every day at the College and also playing at step 5 for London Colney FC.  At the start of last season having secured the services of Jordan Norvelle Williams from Cambridge United that it was probably best to keep Joe playing where he was and to monitor his progress from afar.
Jordan's a good lad and did ok for us but probably about a month into the season I remember talking to Chris and mentioning Joe. Chris said that he felt Joe was a brighter prospect in his opinion. Now everyone is entitled to their opinions and I respect that, Jordan is an excellent player and I knew how much Cambridge rate him and still do. However, we felt that Jordan didn't look like he was enjoying playing for us as much as we thought he would have, so we decided to not extend the loan after the initial 2 months and to get Joe up to have a proper look. I can't remember exactly when Joe came up, I believe it was around about the Leiston Away match. I recall Joe being on the bench and looking very young!
He then made a couple of substitute appearances I believe and I can't remember off the top of my head his first start but what I do remember is that he looked nervous but very capable. Joe's a quiet lad but he let his football do the talking by gradually settling in and his performances got just better and better.
Towards the back end of last season, Joe had a few opportunities to trial at a number of professional clubs. It's not that they were not successful but a contract was not forthcoming. Between Adam Crowther and Joe, we've regularly had scouts from pro clubs coming to our games. The trouble with pro clubs, in my opinion. in these situations is that they want their cake and eat it in seeing the prospective recruits in playing at a decent level AND then invite them in for trials. The reality is that it doesn't suit all players, especially young ones. Our solution as a club was to recommend to both young lads that they sign for us, concentrate on their football and then let clubs come in with offers if they remained interested.
We went into pre-season and then the season started. After our second League match against Biggleswade, Steve Jackson rang to inform me that Coventry City were very interested in Joe and wanted him in for a week. They said to us they were certain of Joe's abilities football-wise but just wanted to have him in to make sure his character fitted. Both Joe's family and we at Royston weren't sure about this. To cut a long story short, Joe went up for a couple of sessions, then we went to Lowestoft where Joe had probably one of his best games for us and in fairness to Coventry they rung Steve Jackson up and started negotiations with him to start the process of signing Joe.
As a club, we have been complemented by Coventry on how we have acted which I for one am very pleased about. And because of this, Coventry were happy to accommodate our request of having Joe back for at least 28 days in a loan deal. That gives me a window to get another left-back in, so a little bit of breathing time to get the right one in!
Cheers
Steve C
THE OLD BULL INN, a traditional 16th-century inn,  is located at 56 High Street, Royston, SG8 9AW and is the perfect place for both rest and rejuvenation. Whether you are staying in one of their comfortable en-suite rooms, cosying up around the open fire with a drink, dining in their restaurant or hosting an event in one of their function rooms The Old Bull Inn is sure to exceed your expectations!