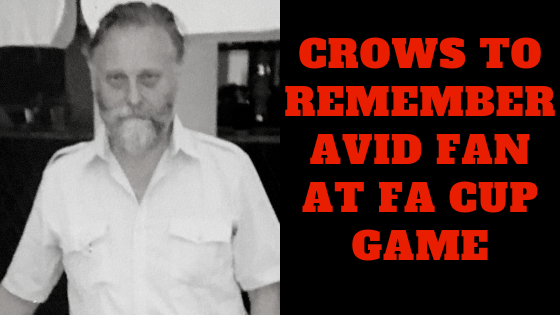 Crows to remember avid fan at FA Cup game
As our 2019/20 FA Cup adventure gets underway on Saturday against Rothwell Corinithians one familiar face will sadly be missing from the Crows faithful – John Morgan. As you may recall long-term season ticket holder John passed away after a long illness at the end of 2018. In memory of their father, John Morgan an avid and long-time Crows supporter, the Morgan family, have made a donation of £1,000 to Royston Town Football Club.
John's son, also called John, said "My father has been a supporter of The Crows for a number of years, and he always enjoyed going to the ground.  Many Saturday evenings, I would get a phone call from him telling me how well The Crows had played, or how they were robbed by some dodgy decision. We also very much appreciated how kind the club was to John even allowing him to watch the game from his car!
My father was a long-standing season ticket holder and he even purchased a season ticket, knowing that he was not well enough to ever see The Crows play again. With all this in mind, we as a family feel it is only fitting that, to continue the support from John, we wish to donate £1000 in his memory. We also look forward to cheering on the Crows in the F.A. Cup on Saturday and wish the Club great success this season and in the future"
As a sign of the Club's gratitude for this kind and generous donation, we have agreed that Saturday's FA cup game will be 'sponsored' in John Morgan's name. The Morgan family will be in attendance and they will be choosing their Royston Town Man of the Match at the end of the game.
Club President Alan Barlow commented "John was an ardent supporter of the club over many years and even though he knew his time was limited he insisted on having and paying for his season ticket which was very typical of his dedication to Royston Town F.C.  He was an absolute gentleman of the old-fashioned type and a lovely man who is very sadly missed at Garden Walk and in the wider community. In recognition of this, the Club has unanimously decided to invest the donation into our Community Development Programme ensuring that both the Club and the  wider Royston Community can benefit from this kind gift"