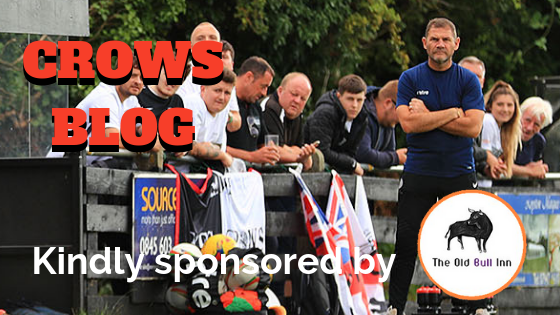 CROWS BLOG: A win's a win!
CROWS BLOG: A win's a win!
Hello,
Reflecting on last nights win over Needham Market and the general feeling is that we got away with one yesterday! It wasn't a great performance from the boys but a clean sheet, which is always pleasing, and a superb penalty strike from Matt Bateman enabled us to secure the points. I don't mean to come over as too negative but as I've previously said the players are an honest bunch and they know it, which is half the battle. To win 'ugly' is a good thing but to be sloppy in games has got be rectified!
The opportunity for success this year is definitely achievable but how is success measured?
For me, it's the advancement of the club in general. The clubs Youth system is, I'm told, one of the biggest in Hertfordshire. We as a first-team are competing regularly at our highest ever level! We sign amongst the best players, certainly at this level, and arguably higher!
My most pleasing advancement is the increase in attendances for our home games. It may not seem a big deal but from just over a hundred when I first came up to now getting 300 plus, and more is fantastic! It's probably why I'm harsh on the players' performances. We need to be putting on a 'show' every week.  I do feel that if we can get our performance levels regularly higher then we can attract even more spectators.
If we as staff can leave anything before our tenure is up, for me, it would be to get our regular attendances up to 500 plus! Regardless of whatever League we are competing in, that for me is the aim. Obviously, it will make it easier if we are in as high a League as possible but not always. Our possible destination could be the National League North or the National League South – both divisions contain 'big' clubs with big followings but just because these clubs are known as 'big' it doesn't mean that we can't join them. We compete on the field of play and now we can as a following and a club.
Onwards and upwards!
Cheers!
Steve C
THE OLD BULL INN, a traditional 16th-century inn,  is located at 56 High Street, Royston, SG8 9AW and is the perfect place for both rest and rejuvenation. Whether you are staying in one of their comfortable en-suite rooms, cosying up around the open fire with a drink, dining in their restaurant or hosting an event in one of their function rooms The Old Bull Inn is sure to exceed your expectations!