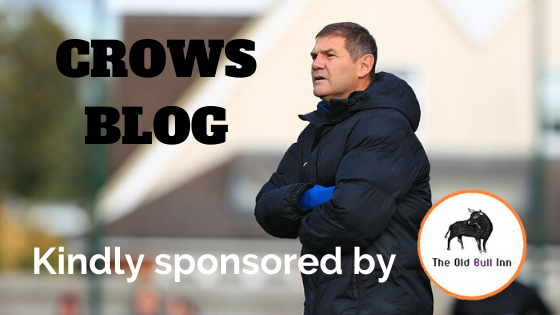 CROWS BLOG: Another point!
The CROWS BLOG is kindly sponsored by The Old Bull Inn
CROWS BLOG: Another point!
Hi all,
Reflecting on yesterday's match at Nuneaton Borough, for me, it was an opportunity lost but still one where we showed enough to suggest that we can compete at the top of this League this season!. All said and done, they had the better of the opening exchanges with us giving our opposition too much respect in my opinion. We won't be the first team to visit Nuneaton and not fully perform. They are particularly good at home but when you put them on the back foot, for me, they are not an impressive team. I certainly don't mean to be disrespectful to Nuneaton, they are a club with a very good non-league tradition and have great facilities. The fair size crowd made for a lively atmosphere, was it intimidating? I'm not so sure… but to be fair to them they started their attacking play on the front foot and produced two very good goals.
That being said, when we stretched them at the back they looked vulnerable. To prove that Muzza took their centre half out of their centre backs comfort zone, and got a good cross in, Scott Bridges who made the goalkeeper save and Matt Batman followed up to equalise.
When we settle down and play we really are a good team. We need to defend a bit more conservatively in my opinion. By that, I mean not rushing in and trying to win the ball but instead denying the forward pass. For all the right intentions we want to go and win the ball back at the earliest opportunity. It's not always the best option. A degree of patience is needed and is something for us to work on in the coming weeks.
What I will commend the lads on is their never say die attitude. We kept going and kept creating chances. However, I did feel that maybe we had run out of chances and then a semi-fit Scott Bridges stroked a lovely free-kick in to get us the point that we richly deserved.
This week we have a couple of games in cup competitions. Firstly on Tuesday night we are at home against Berkhamsted in the Herts Senior Cup and then on Saturday we entertain Haywards Heath Town in the Second Qualifying Round of the FA Trophy. We want to make progress in both of these competitions. I'm not sure about anyone else but for me our cup encounters have been brilliant this season and to keep them going would be fantastic!
Cheers for now
Steve C
THE OLD BULL INN, a traditional 16th-century inn,  is located at 56 High Street, Royston, SG8 9AW and is the perfect place for both rest and rejuvenation. Whether you are staying in one of their comfortable en-suite rooms, cosying up around the open fire with a drink, dining in their restaurant or hosting an event in one of their function rooms The Old Bull Inn is sure to exceed your expectations!