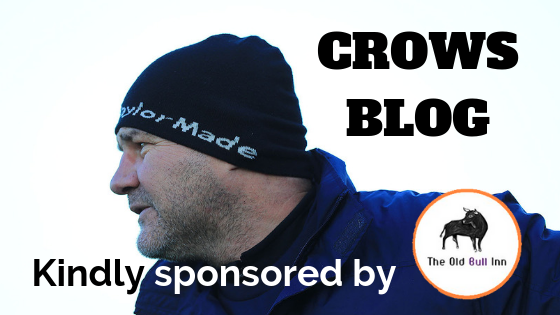 CROWS BLOG: Wet Wet Wet
The CROWS BLOG is kindly sponsored by The Old Bull Inn
CROWS BLOG: Wet Wet Wet
 Hi,
It was a hard-fought win last night over Berkhamsted in very wet conditions. It was pleasing in many ways, firstly against Matt Bateman's old club, secondly against a team that hasn't been beaten this season in their League and lastly the fact that we changed things around a little to rest certain players and also to give others an opportunity.
I believe that you may have heard me say this before,  but boy do we make things difficult for ourselves… We started brightly enough but they looked dangerous on the break. We had several good passages of play, just not always leading to an opportunity to score. That's an issue that we must work on. Although Berkhamsted went ahead it was against the run of play in my opinion, but we quickly got ourselves back level. Only a missed penalty and missed chances stopped us from taking the lead at half-time by at least one goal, possibly two!
Despite the scoreline, half -time was upbeat – "Much the same please boys and the goals will come" was the message. I do feel that we have to give our opponents some credit, they adjusted their shape slightly and we slowed our tempo down somewhat and the game became a little flat. Was it the conditions, fitness or our belief? Your guess is as good as mine. To be truthful, although we slightly edged things I always felt that 'Berko' had a goal in them. At this point, I must applaud our goalkeeper for the night, Harry Smart. Harry came in and made several good stops and his distribution of the football is sublime.
We got a little frustrated but as I've said before our squad is fit and can carry right on to the end of the match and that's what it needed. This was demonstrated by Harold Joseph popping up in the penalty area, retrieving a 'lost cause' to put the ball back into a dangerous position for Brandon Adams to score his second of the night – job done! Eventually!!
A quick update on the players who were missing from last night – the injury list is too long for my liking – Adam Watkins, Scott Bridges, Adam Murray, Daniel Braithwaite, Spyros Mentis and Josh Castiglione all have knocks of varying degrees. It's a bit too early to say how many will be available for Saturday but it is a little worrying.
This Saturday sees us back on the Wembley trail! Ha Ha!!
At the moment the FA Trophy is probably not as exciting as our FA Cup exploits but hopefully, with progression we can get some good ties. We usually seem to do alright in the Trophy and a few years back, as a step 4 club, we beat Hampton and then narrowly missed out against Dulwich Hamlet. This can give us the belief that we can go on another Cup journey. Hopefully, we'll see another good-sized crowd cheering on the lads.
I want to take the opportunity at this stage to commend our fantastic groundsmen for the great pitch that we still have. The weather has been very wet and in previous seasons the amount of rain could have killed the pitch, but it has taken it well.  Everyone at the club truly appreciates your efforts lads. Thanks a lot!
Cheers
Steve C
THE OLD BULL INN, a traditional 16th-century inn,  is located at 56 High Street, Royston, SG8 9AW and is the perfect place for both rest and rejuvenation. Whether you are staying in one of their comfortable en-suite rooms, cosying up around the open fire with a drink, dining in their restaurant or hosting an event in one of their function rooms The Old Bull Inn is sure to exceed your expectations!