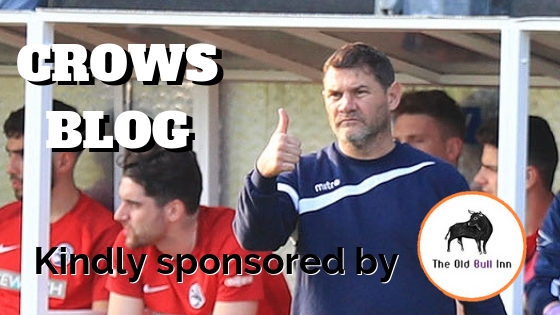 CROWS BLOG: Raining goals!
The CROWS BLOG is kindly sponsored by The Old Bull Inn
CROWS BLOG: Raining goals!
First of all, I've got to praise the brave souls who came to watch us on Saturday in what can only be described as terrible conditions. Thanks very much and I'm glad that you were treated to a real goal-fest! 3 goals in the first half and 4 in the second to equal our highest tally this season.
There was some great play going forward, which is very pleasing. At times this season, we have struggled to finish our chances but that wasn't the case on Saturday. We were clinical against a good Haywards Heath Town side. I honestly don't want anyone to think that I'm being patronising by calling our opponents a good team. As I said our finishing was excellent but even though our chances were going in on Saturday they had a great opportunity to get a goal back at 2-0 down! Only a superb stop from Joe Welch kept them at bay. Not long after that after we managed to get a further goal but at no time did they give up. In particular, I thought their Captain was very good and on another day the scoreline would probably not have been as emphatic as it was!
But it's all good, and we progress again in one of the main cups. We now look forward to seeing who we get in the next round.  Step 2 clubs come in so it could be an interesting encounter ahead for us, but for now, we go back to League fixtures, beginning with Barwell away next Saturday. Due to our cup exploits this year we are a little behind in games at the moment.
The boys have worked very hard recently and in my opinion, they deserve a night off from training. In periods throughout the season, rest is as beneficial as training. They all need to recover as we have sooo many games coming up!!
Thanks
Steve C
THE OLD BULL INN, a traditional 16th-century inn,  is located at 56 High Street, Royston, SG8 9AW and is the perfect place for both rest and rejuvenation. Whether you are staying in one of their comfortable en-suite rooms, cosying up around the open fire with a drink, dining in their restaurant or hosting an event in one of their function rooms The Old Bull Inn is sure to exceed your expectations!