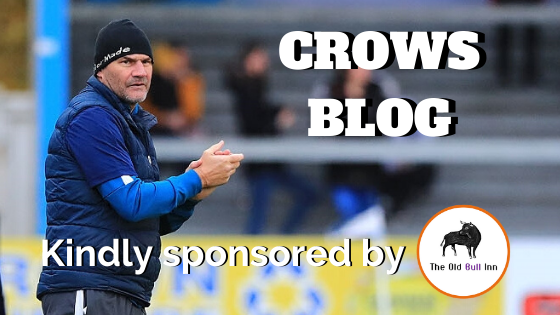 CROWS BLOG: Another Top Day!
The CROWS BLOG is kindly sponsored by The Old Bull Inn
CROWS BLOG: Another Top Day!
Hi all,
Getting through to the 2nd round of the FA Trophy for the first time ever in the clubs history is something that I, for one, am so proud of!
Yet again our boys were superb! I'm running out of superlatives to describe the players, but week in week out they are performing to such a high level, they definitely deserve every plaudit they get!
Top lads and a top club. We all seem like we are progressing very nicely indeed.  Considering where we have come from, which is as far as I'm concerned, Step 4 to Step 3 and then to beat a leading Step 2  team in Wealdstone and then a very competitive Step 1 team in Boreham Wood is beyond our wildest dreams.
To be fair, we definitely deserved it in my opinion. We got about it – yes, the conditions were not good but we adjusted very well and 'dug deep' when needed and we scored 2 very good goals.
So now we go into the hat for the 2nd round and now it goes nationwide I believe – no more regionalisation. A home draw for me would be great – I'd take anyone now for me. One thing is for certain, no one should or will be taking little old Royston Town for granted that's for sure!
While I'm on a roll, I'd like to say a great big thank you to all for the support from you all!  We have had 2 great days at Garden Walk this season, one not so great and then Saturday – brilliant.
Well done to everyone!!
Cheers
Steve C
THE OLD BULL INN, a traditional 16th-century inn,  is located at 56 High Street, Royston, SG8 9AW and is the perfect place for both rest and rejuvenation. Whether you are staying in one of their comfortable en-suite rooms, cosying up around the open fire with a drink, dining in their restaurant or hosting an event in one of their function rooms The Old Bull Inn is sure to exceed your expectations!