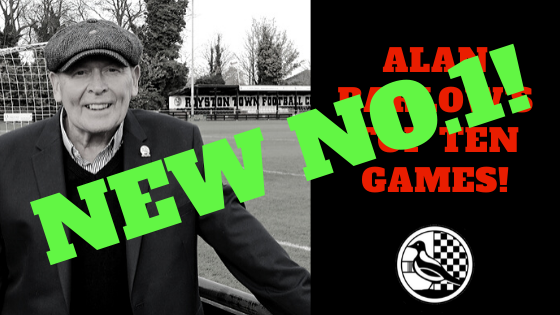 Alan Barlow's TOP TEN – A NEW NUMBER 1!!!
Immediately after the end of today's outstanding victory against National League Boreham Wood, I was asked by so many people, not least by Chairman Steve Jackson, whether the game would now be in my top ten Royston Town games I'd ever seen.  The answer is, of course, a resounding  'YES' –  my only problem is in what position do I place it and which of the games I've already nominated goes out of the top 10.
Well, I've decided that today's game has to take the number one spot!! The performance level of the lads was exceptional and when we were really up against it in the second half our team spirit defensive organisation and graft shone through -throughout the whole of game we didn't look like we couldn't compete at this level and yet again we've made club history by getting into the FA Trophy Second Round proper.
Let's do it all again next time – hopefully after the draw on Monday another home game and I'd be more than happy with Notts County as our opponents!!!!
By the way apologies to the interviewer from BBC Three Counties Radio after the game for the emotional babble I blurted out  – but then isn't that what the spirit of non-league football is all about and if you're not convinced then look at young Tom's post-match celebration in our dressing room now showing all over social media.
My personal thanks go to Steve, Chris and all of his team, the players and above all our supporters.
COYC
Alan Barlow