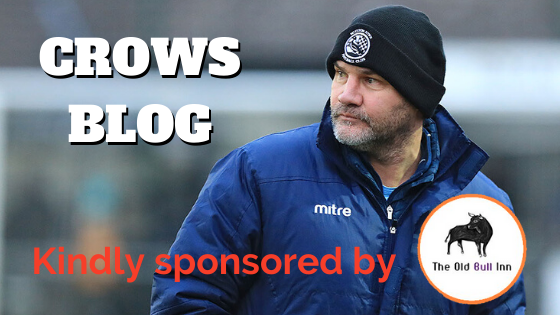 CROWS BLOG: Anticlimax
CROWS BLOG: Anticlimax
What a letdown!
The Crows 'flocked' to Canvey Island for our quarter-final tie against Concord Rangers in droves! Only to be bitterly disappointed by the cancellation of the game. 6 full coach loads of supporters, mostly our fantastic Youth lads all made the effort to come and back us!
Can I at this time on behalf of all the players and staff of the club thank each and every one of you guys that came down. We are very grateful for the support. We do realise that not all of you will manage to come along on Tuesday night but a big thank you for ALL the support!!
However much I would like to comment on the 'events' of yesterday I think I'd better not. I am, as everyone is,  fuming but we'll leave it at that until a later date. Now to look forward to the rearranged fixture which hopefully weather permitting will be this Tuesday. The players will be a bit more rested and for a certain Adam Murray the opportunity to get involved once more in this superb run!
One negative from the weekend is the fact that another League game will have to be put back. We are now running out of available dates so the run-in is being made harder but we will keep going, game by game and competing in every match.
I've said it before and I will say it again –  squad, squad, squad! If we are to get success, and I believe we will,  we can only do it by resting a few and mixing and matching the team as we see fit. I'd like to think that as a staff we will attempt to get most of the choices right but inevitably we won't get it right all of the time. EVERYONE WILL BE NEEDED!
Big games are coming every week now and so there's plenty to look forward to! If you can make it, see you Tuesday!
Cheers
Steve C
The CROWS BLOG is kindly sponsored by The Old Bull InnTHE OLD BULL INN, a traditional 16th-century inn,  is located at 56 High Street, Royston, SG8 9AW and is the perfect place for both rest and rejuvenation. Whether you are staying in one of their comfortable en-suite rooms, cosying up around the open fire with a drink, dining in their restaurant or hosting an event in one of their function rooms The Old Bull Inn is sure to exceed your expectations!