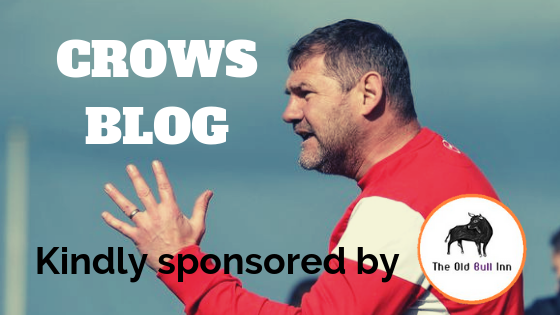 CROWS BLOG: Attitude
The CROWS BLOG is kindly sponsored by The Old Bull Inn
CROWS BLOG: Attitude
Hi!
Not a match review today but one of a sort I suppose in as much as we held a practice match that I'd like to tell you about. On Tuesday night both the reserves and the first team had a practice match on the pitch – thank you, Steve  Jackson!
Nothing unusual there but what I'd like to mention was the all-round attitude of ALL of the players involved. It was quite simply superb. To a player, everyone treated it like a cup final. The movement, the pressing, the general all-round good play was a real pleasure to watch. Well done to you all!
It's not often that I sit down and do a blog other than post-game reviews but I really wanted everybody to know just how well the boys did. I don't want to pick any one person in particular for praise but to a man, their approach was bang on. Long may it continue!
Up the Crows!
SC
THE OLD BULL INN, a traditional 16th-century inn,  is located at 56 High Street, Royston, SG8 9AW and is the perfect place for both rest and rejuvenation. Whether you are staying in one of their comfortable en-suite rooms, cosying up around the open fire with a drink, dining in their restaurant or hosting an event in one of their function rooms The Old Bull Inn is sure to exceed your expectations!