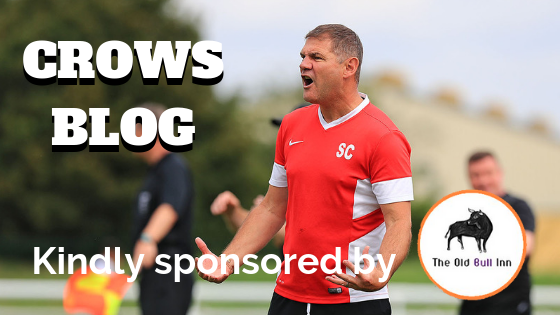 CROWS BLOG: Business as usual but…with an edge!
The CROWS BLOG is kindly sponsored by The Old Bull Inn
CROWS BLOG: Business as usual but…with an edge!
Hi there.
Another update from me on proceedings at the club me including our most recent game against AFC Rushden & Diamonds.
Firstly the draws in the Cups. In the FA Cup, we face a team from step 5 in Balham and in the League Cup we've got an away match at Welwyn Garden City. The FA Cup tie is our most immediate with it being this coming Saturday. For me and for the staff it is THE most important match of the season so far! There are several reasons why:
1.  It's the next match!
2. Progression in the Cup enables us to keep things as they are in regards to players staying with us.
3. The club wants a decent Cup run!
I say this because I want you guys to know how we will approach everything this week, it's pretty much business as usual but with an edge! The players know the importance, the staff know the importance and so we need to go to the game, prepared and ready!
On to yesterday's match against our high profile opponents, Rushden & Diamonds. It was a nice atmosphere with a decent crowd in a small stadium but for me, the game just didn't get going! I thought they had the better chances and we struggled to get any sort of flow to our game. Our one real bit of quality led to us going into the lead, a superb cross from Adam Crowther and an excellent finish by Matt Bateman put us one up, a lead we didn't deserve in my opinion but we gladly took it into the half time break.
As per usual Chris and I had a brief chat walking back to the dressing rooms, we felt the same and on this occasion, Chris put his thoughts to the boys before me! He was bang on, stating that we hadn't started, giving the ball away too much and generally not having as much drive as normal. I've been in football long enough to know that these sorts of days can happen. Our standards have been set extremely high this year and we do not want to let them drop but at times they have – why?? Well, if I knew that obviously I would probably be a very wealthy manager! We as Staff try to do everything as professional as possible – setting the team up as best we can and hoping everyone keeps their standards! To a degree, it's football in a nutshell. Who would think that Tottenham (the team I support) can get themselves to a European Cup Final and then play so badly, and then they don't seem to be quite the same team this year. It's just a comparison but hopefully, you know what I mean. Going back to our players, as I've often said I think that they are an honest group of lads which makes managing them a lot easier.
So we keep going, we don't look for excuses but remain positive. We are hardly in a bad position but as I said earlier the boys now have high standards to keep too, they all have their individual goals and most have strong competition for their places which I alluded to after the game!
Onto other business in regards to us… Joe Newton although back with us on loan was not available to us yesterday, a slight hamstring problem kept him out. Hopefully, he will be ok for Saturday but we really need to get a replacement in as soon as we can. Rest assured, we're on it but, as always, we'll keep it 'in-house' at the moment if that's ok?
So we're probably going to focus on getting back to basics. We'll have a practice match Tuesday to help get match minutes from some. I'm determined to keep everything positive around us as I feel it's important for all of us. There will be 'blips' along the way but as long as everyone keeps believing and keeps positive we'll be ok!
Cheers
Steve C
THE OLD BULL INN, a traditional 16th-century inn,  is located at 56 High Street, Royston, SG8 9AW and is the perfect place for both rest and rejuvenation. Whether you are staying in one of their comfortable en-suite rooms, cosying up around the open fire with a drink, dining in their restaurant or hosting an event in one of their function rooms The Old Bull Inn is sure to exceed your expectations!