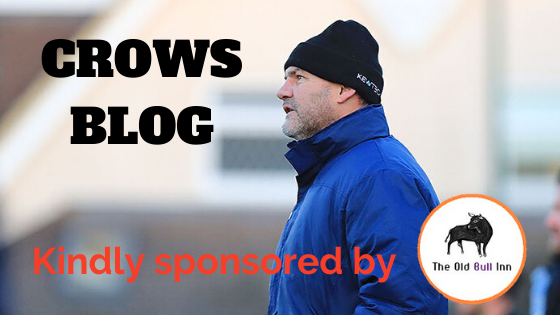 CROWS BLOG: Away day win!
The CROWS BLOG is kindly sponsored by The Old Bull Inn
CROWS BLOG: Away day win!
Hi everyone.
Our boys did us proud once more, winning in trying circumstances against an Alvechurch team that are battling for their lives. A 1-0 victory but the score line really doesn't reflect the story of the game. We went about the game in a positive manner and probably could, and should, have been even more than one goal up at half-time!
The conditions were tough as the pitch had recently been vertidrained which meant that there were holes all over the pitch! Not ideal, but the players I felt dealt with it well and with us going in 1-0 up at the break, I for one was expecting us to increase the lead and make the result more comfortable. However not so, because a rash challenge by Joe Welch meant a red card and reduced us to 10 men. We then had a tense last half an hour to endure!
In their resilience, the chaps were again superb. Each and every one of them put in a shift to gain the points. Yet again impressing us all! Doing these blogs I am very aware of not repeating myself but yet again the SQUAD proved their worth with a few changes and EVERYONE contributing.
Well done lads! Now to rest up and go again! We have another game on Tuesday to deal with at home to Redditch United. It's always better when there's a win to savour but now we must not take anything for granted and take each and every game as they come.
On another note, today was somewhat unconventional in as much that we were all due to meet at Junction  13 of the M1 at 11.30 but because of an accident there they had shut the M1 both ways! A quick few phone calls made to our driver Danny and a rearranged meeting point, the only problem was that for some it was easier to go straight to Alvechurch so for once we had a half-full coach. Not ideal but the lads took it all in their stride and didn't let anything affect them.
Some positive injury news to report – the 2 boys coming back from injury, Ryan Ingrey and Taylor Parr, both got a game under their belts for the Reserves on Saturday –  great to hear that lads!
So hopefully we can see as many supporters at Tuesday's match as possible. Yes, there's a 'Biggy' coming up on Saturday but it won't get mentioned by us until after Tuesday because it's the next game and that's the most important!!!
Cheers
Steve C
THE OLD BULL INN, a traditional 16th-century inn,  is located at 56 High Street, Royston, SG8 9AW and is the perfect place for both rest and rejuvenation. Whether you are staying in one of their comfortable en-suite rooms, cosying up around the open fire with a drink, dining in their restaurant or hosting an event in one of their function rooms The Old Bull Inn is sure to exceed your expectations!