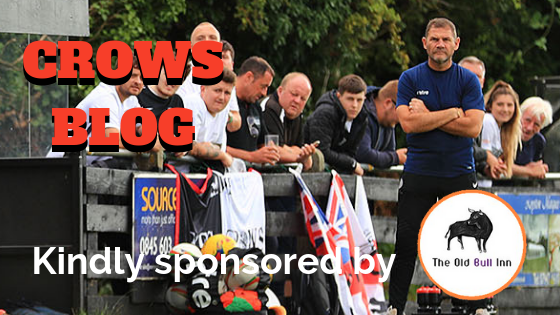 CROWS BLOG: Funny old game
The CROWS BLOG is kindly sponsored by The Old Bull Inn
CROWS BLOG: Funny old game
Firstly, Happy New Year to one and all from the players and staff.
Yesterday was a great way to start the year with a resounding victory against Lowestoft Town. It may be surprising to any of you that didn't attend the match that the result rather flattered us, especially on our first-half showing but the second half more than made up for it with some superb finishing securing a vital win.
It's a really good time to be involved with the club at the moment, we are on a rich vein of form and getting great results both in the League and cups. I've said it before and I will say it again the squad is strong and it isn't just the 11 that win games, it's the whole squad. Some of them are getting extremely frustrated at the lack of game time as the competition for places is so fierce.
With our recent good form, the matches are starting to pile up a bit now. We still have to rearrange games against Tamworth (AWAY) and Biggleswade Town (HOME) as well as games against St Albans City in the Herts Senior and Hemel in the Charity Cup! Our boys will be busy but that's the inevitable cost of success!
Some news on players coming back from injury, Taylor Parr is progressing nicely as is Ingers (Ryan Ingrey). Both need football now so there may be a case for them to be loaned out…possibly! We'll see.
We've picked up a few injuries over the last couple of games. Ed Asafu-Adjaye has fractured his hand – a bit of a strange one – as he can't remember doing it but woke up with his hand swollen after the Kings Langley game. Braths (Daniel Brathwaite) has a swollen ankle which caused him to come off yesterday so both are doubtful for Saturday's visit to Alvechurch. But this is when the squad comes into play. Gus Scott-Morriss came in and performed very well and Ben Martin (Congratulations on the birth of your baby!) considering his circumstances managed to keep awake and also performed extremely well!
On to the next game, Alvechurch away on Saturday and we are nearly halfway through the season. The second half of any campaign is where all those extra margins really start to count. So, let's get as many people down to our matches, especially at Garden Walk, that we possibly can please! The town should be buzzing! So all of you Royston Town Youth lads and Mums and Dads! Believe me, it all makes a difference!
Cheers for now
Steve C
THE OLD BULL INN, a traditional 16th-century inn,  is located at 56 High Street, Royston, SG8 9AW and is the perfect place for both rest and rejuvenation. Whether you are staying in one of their comfortable en-suite rooms, cosying up around the open fire with a drink, dining in their restaurant or hosting an event in one of their function rooms The Old Bull Inn is sure to exceed your expectations!