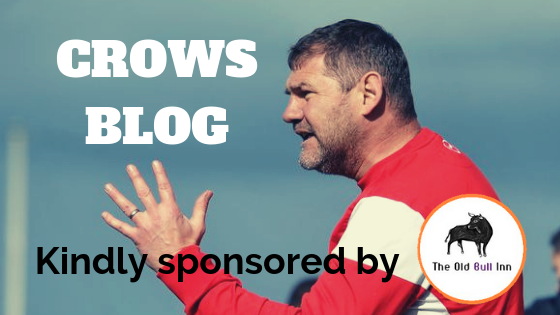 CROWS BLOG: Resilience in abundance
The CROWS BLOG is kindly sponsored by The Old Bull Inn
CROWS BLOG: Resilience in abundance
Hi guys.
It seems a while since I last 'checked in'. What with the Xmas period and a postponed match it has been a while but here goes!
On Boxing Day we got another great win, this time against Kings Langley in the League which keeps us ticking along nicely. It certainly feels like it's a good time to be a Crow at the moment!
To comment on yesterday's game, it wasn't a classic but a great goal from Adam Watkins after great work from Josh Castiglione got us in front. A little while after Josh put the ball into net once more but unfortunately one of our lads was offside and it got chalked off.  In the second half, we should have pushed on but it didn't really go our way. Kings Langley, in fairness to them, gave it a real go and put us under some real pressure to keep our lead. We did have one or two chances but in general, they kept pushing for the equaliser but to no avail as we stood firm! In general, we defended very well and managed to restrict them to limited opportunities!
It wasn't our best performance but we displayed resilience in abundance. I've said this before about this group, they are an honest bunch. As with most teams, there are always highs and lows but to win games when you're not quite reaching your high-performance levels is a very good trait to have.
We've now got a load of matches coming up, weather permitting, both in the League and the various cups. As far as the squad is concerned, everyone is fit and raring to go. Josh picked up a slight knock against Kings Langley but hopefully will be ok and James Brighton was a little under the weather so wasn't considered from the bench but other than that they are all fit and well!
I probably won't contribute another blog before the New Year now, so I'd like to wish everyone Merry Xmas and a Happy New Year!
Cheers
Steve C
THE OLD BULL INN, a traditional 16th-century inn,  is located at 56 High Street, Royston, SG8 9AW and is the perfect place for both rest and rejuvenation. Whether you are staying in one of their comfortable en-suite rooms, cosying up around the open fire with a drink, dining in their restaurant or hosting an event in one of their function rooms The Old Bull Inn is sure to exceed your expectations!