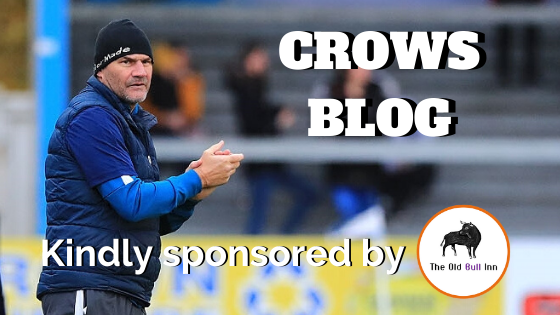 CROWS BLOG: Bloody hard work
The CROWS BLOG is kindly sponsored by The Old Bull Inn
CROWS BLOG: Bloody hard work
What a day!
A fantastic result against the Conference South table-toppers Wealdstone in the FA Trophy but the result doesn't tell the full story. Yes, we won and what a wonderful outcome it was. Our first-half performance was superb but  we probably should have added to the brilliant goals that we scored
2-0 up at half time, it was always going to be the next goal that made all the difference. We had another amazing opportunity to score and make it 3-0 but missed and then the drama went into overdrive! As with most dramas, the 'ante got risen' when they pulled one back. Even though we should have been at least 3 goals up, we now found ourselves 'hanging on' to a one-goal lead. Obviously the goal gave our opponents a lift and they turned it up a gear going forward especially. In my opinion, they were poor at the back and again we had more chances to score but didn't… and then the inevitable happened, they equalised. All of us Crows were probably thinking the best we'd get was a replay. But no, even more drama followed, another great finish, again by Brandon Adams, put us 3-2 up. Then we just had to hang on once more – this time we achieved it!
Absolutely fantastic result. ALL the boys were brilliant – make no bones about it it's a massive scalp!
At this point, I do have to single out one guy for a special mention – my assistant Chris Watters. Somehow he acquired footage of Wealdstone's last 2 matches. He got them into our video analytics service and had the lads look at one whilst we all looked at the other together last Tuesday, instead of training. Chris came up with a game plan, an ambitious one but one that I was willing to back and boy it worked out amazingly!
Fair play mate! Well done!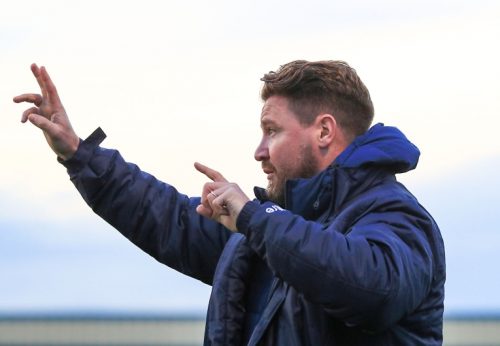 So everyone will be tuned in for the draw on Monday. I got asked after the game who I would like, my answer:  A home tie, against a team we can beat, hopefully with the same level of support we got for the FA Cup game!
I don't mean for this to come across as arrogant but why on earth can't we go deep into the competition! Win the next round and we are then down to the last 32 non-league teams in the country! I would love our players to go up against 'the big boys' in this competition – And why not!!!
Cheers
Steve C
THE OLD BULL INN, a traditional 16th-century inn,  is located at 56 High Street, Royston, SG8 9AW and is the perfect place for both rest and rejuvenation. Whether you are staying in one of their comfortable en-suite rooms, cosying up around the open fire with a drink, dining in their restaurant or hosting an event in one of their function rooms The Old Bull Inn is sure to exceed your expectations!