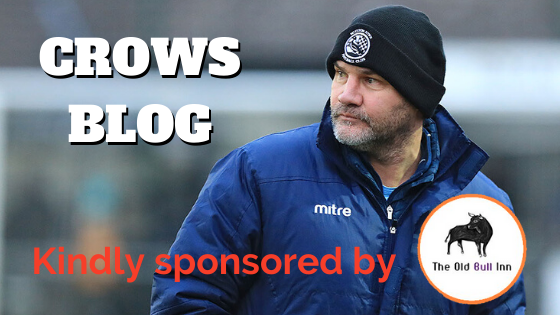 CROWS BLOG: End of the run
CROWS BLOG: End of the run
Hi all,
Well, it had to come to an end I suppose, but for me, it was the manner that we went about last nights game at Tamworth which was most disappointing.
I grant you that we had to make a couple of changes due to injury to some big players, Adam Watkins again missing out because of his accident at work and Ben Martin who very honestly admitted he wasn't quite fit enough to play so early after Saturday. Also, Braths was missing so we were a little under strength BUT we definitely had enough, in my opinion, to give Tamworth more of a game than we did!
On reflection we have done amazing to peg back the leaders in Tamworth, I believe 2 or 3 months ago we were 8 points behind and had played more games than them. However, our recent run has closed the gap and we were, before last night, a point in front of them. Now they are 2 points clear of us, so definitely not too far away.
Back to last night's game and I have to give Tamworth praise. They themselves have had some bad results, especially last Saturday losing to rivals Peterborough Sports 4-2 but they responded extremely well by taking full points off us. It tells all of us that there is still plenty to play for and NOTHING has been won yet.
Have we got a reason for underperforming last night? Not really. Yes we had vital players missing but as I've said on numerous occasions we have a tremendous squad and so we should have coped. But we didn't and that's it. We move on. The players will be in on Thursday for a very light session and then we get ready to go again! Will we see a few changes for Saturday? Maybe, but these are mostly the players that have got us into this positive situation so to have 'an off night' I suppose is football all over. But, all the same, at the moment last night is still raw so its hard to see too many positives! I can think of one though. Taylor Parr making his first appearance of the season. Taylor has had to endure a big part of the season recovering from the broken leg he sustained in pre-season. He has mainly kept his head up and gone about his rehabilitation in a determined frame of mind.
On the recruitment front, both Chris and I feel that we could do with an extra option up front and we are actively exploring various avenues, so watch this space.
So in summary, we take it on the chin and come back again on Saturday at Rushall Olympic. All games are vital. We have beaten some good teams but last night we came unstuck. I'm sure there will be some twists and turns for all the teams from now to the end of the season.
Keep it going!
Steve C
The CROWS BLOG is kindly sponsored by The Old Bull Inn
THE OLD BULL INN, a traditional 16th-century inn,  is located at 56 High Street, Royston, SG8 9AW and is the perfect place for both rest and rejuvenation. Whether you are staying in one of their comfortable en-suite rooms, cosying up around the open fire with a drink, dining in their restaurant or hosting an event in one of their function rooms The Old Bull Inn is sure to exceed your expectations!