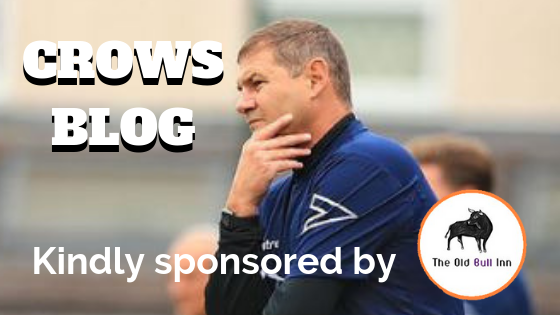 CROWS BLOG: Food for thought
The CROWS BLOG is kindly sponsored by The Old Bull Inn
CROWS BLOG: Food for thought
Hi there.
A loss in the League Cup by Welwyn Garden City last night. Ending up 5-3 which I'm sure was fairly entertaining for neutrals but as the manager of the losing team, it provides some food for thought!
I made changes to the starting line-up as everyone would expect. We have a very heavy schedule in the next month and so a 'match ready' squad was and is the aim. To get as many players up to first-team fitness/sharpness is the ultimate goal when it comes to these particular games.
So looking back at last nights League Cup game, we fielded a strong team in my opinion, whilst still trying to keep to our shape which was important and challenging certain lads to stretch themselves in slightly unfamiliar roles.
The bottom line is that however much we try, there will be some players that won't for various reasons get sufficient minutes to keep them sharp. We have several in that category currently. All of them are fantastic footballers and all will be making huge contributions towards our season but at the moment they find themselves on the 'outskirts' and now they have to dig deep.  Without getting too personal this is what being a 'proper' player is all about in my opinion. Yes, it's great when you're playing well and performing and it's easier' to keep the attitude and dedication going. But, it's when things get tough that I really can judge. When it's not going quite their way or when they're not being picked, how are they going to react? Positively or negatively? Boys, if you are reading this, keep going, it is being noticed!
Despite the defeat, there were some plus points to come out of last nights game. Sam Nolan grew into the match and performed well, especially in the second half. Callum Taylor, a kind of new lad but is known well by us at Royston Town. Callum has been mostly playing up top or wide for various clubs but has asked to be considered as a left-sided player. We will give him his opportunity, welcome Callum and good luck!
So, onwards and upwards, well be training on Thursday in preparation for a big League match away to Hednesford. They are among the favourites for the League so it'll be a stiff test. They have a good pitch, good facilities so hopefully, it'll be a game to match.
Of course, I have to make a brief mention of the FA Cup Draw. Although we are at home against a team from a lower League it's sure to be a hard match! Maldon & Tiptree have made a flying start to this season. Of course, we are all looking forward to that game but first, we have 6 massive league points to play for!
Good times!!
SC
THE OLD BULL INN, a traditional 16th-century inn,  is located at 56 High Street, Royston, SG8 9AW and is the perfect place for both rest and rejuvenation. Whether you are staying in one of their comfortable en-suite rooms, cosying up around the open fire with a drink, dining in their restaurant or hosting an event in one of their function rooms The Old Bull Inn is sure to exceed your expectations!