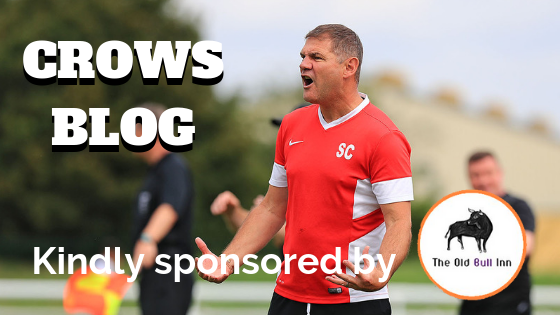 CROWS BLOG: The Longest Day
The CROWS BLOG is kindly sponsored by The Old Bull Inn
CROWS BLOG: The Longest Day
An away game to reflect on yesterday against a  'high-flying' Hednesford Town team. As they are newcomers to our League we entered into the unknown slightly although the videos of them on YouTube, gave us a fair amount of knowledge of what they were all about!
A good pitch and facilities welcomed us and I'm sure our boys were up for the contest but for whatever reason, we just didn't start. Our formation, that has served us well up until now just wasn't happening. We were sloppy from the front to the back and with very little opposition our hosts found themselves 2-0 up early on.
Our lads have received plenty of praise this year for their attitude and enthusiasm but after 'gifting' them 2 goals we felt we had to make a change to give us a chance to get back into the match. We did and due to our lack of attacking options, we put Adam Murray up top to bolster the frontline. Immediately it paid dividends with Brandon Adams getting a goal back for us. Suddenly the belief and better all-round play came back to us. We then proceeded to take the game to Hednesford and we created fantastic chances to equalise and possibly go in front either side of the half-time break. We had 2 efforts cleared off the line and a couple of missed chances but we were so on top. I can't remember them being in the match at this time.
Then 'POW' the Referee makes a decision that changes the match back into our opponent's favour. Muz goes up for a challenge which I believe at worst it was a clash of heads. At this point, if Adam goes down like their fella holding his head then, in my opinion, there's no sending off. In fact, the Ref ref didn't look like he was even going to take any action. Quite rightly, he checked on their player and maybe he was listening to the comments of their contingent and out of the blue he produced a second yellow – and Muz was off!
At this point, we were 2-1 down but very much on top in the game and now we had to change things once again. Situations like this always become 'messy' for me, on the one hand we still want to take the game to our opponents and at least get a draw but on the other hand, we don't want to leave ourselves open to further goals against.
Not long after, a Hednesford attack leads to their substitute getting into our box,  and, Joe Welch swears blindly that he didn't touch him, he goes down and the Ref has, in my opinion, has made another mistake which costs us a goal. Now we have a  mountain to climb to try and get anything from the game.
In all football, the Ref cannot win! I appreciate that and I've been in the game long enough to know that you win some and you lose some but it seems that with this League, in particular, these officials are always 'learning' the game and can maybe easily influenced by vocal supporters demanding action. So what as managers or coaches can we do about it?
NOTHING!
We are allowed to go in, which I did, to question their decisions. To be honest, I always feel that this is pretty pointless but at least it's an avenue to discuss. Out of respect to the officials on Saturday, I won't say what was said. There was a Referee's coach in the room who remembered me from reffing me in my playing days and we had a very good constructive conversation but what does it achieve?
In my opinion, it would be very beneficial for managers/coaches and the officials should meet before the season starts,  and after,  to talk calmly about each other's grievances. Obviously we have to have officials but surely they can't enjoy being put upon in certain situations. Many of the officials are young ambitious people who, I'm assuming, want to climb the ladder swiftly. As mostly ex-players, fully qualified coaches, with experiences that cover many years, surely the refs are missing a trick from not learning from us. Will it happen?  I can't see it – but you never know!
As for us and our current situation, we have picked up a few injuries lately, Josh Castiglione and Spyros Mentis being the latest. The League, in general, seems to be very open this year with no one team pulling away. We have Hitchin Town at home on Tuesday night so we'll be focussing our full attention to that game. There'll be no talk of Saturday's game until we get the 3 points on Tuesday!
Cheers
Steve C
THE OLD BULL INN, a traditional 16th-century inn,  is located at 56 High Street, Royston, SG8 9AW and is the perfect place for both rest and rejuvenation. Whether you are staying in one of their comfortable en-suite rooms, cosying up around the open fire with a drink, dining in their restaurant or hosting an event in one of their function rooms The Old Bull Inn is sure to exceed your expectations!