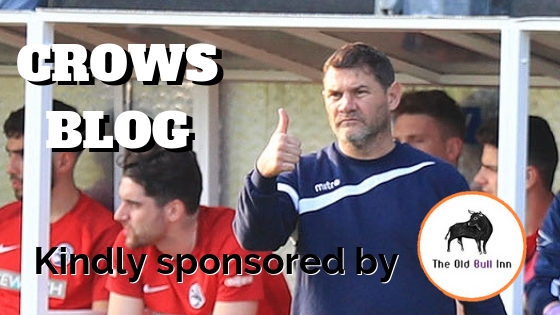 CROWS BLOG: Game of two halves
The CROWS BLOG is kindly sponsored by The Old Bull Inn
CROWS BLOG: Game of two halves
Hi there!
A great win to report on in the opening day of the season. A resounding 3-0 win to start! Really pleasing and a superb reward for our hard-working squad. They really have shown fantastic commitment and positive attitudes throughout the pre-season and although our friendly's have been up and down results-wise, we have learned and developed, week by week.
The weather was horrendous for football. Especially in the first half when we played into it and were simply superb. To a player, the boys worked so hard. They showed great technical ability and fantastic finishing qualities to put us 2-0 up at halftime.
Into the 2nd half and what really should have been an 'easier' half in as much as we had the slope, the weather and the lead but it never really materialised – why? I have my own thoughts but I'll keep them to myself if I may, only because I want to keep a positive vibe to things, especially after a convincing 3-0 win!
On the injury front, we have a few worries. Josh Castiglione had to come off due to an ankle problem that will need an X-ray, Harold Joseph has tweaked a knee ligament but will hopefully be alright and Scott Bridges has also picked up an ankle problem.
So with an important match coming up Tuesday, away to Biggleswade Town, and only the 2nd match into the season and we are 'stretched' once more… It can't be helped but it does mean that we will have to use most of our talented squad but at the end of the day that is what a squad is for.
Cheers
SC
THE OLD BULL INN, a traditional 16th-century inn,  is located at 56 High Street, Royston, SG8 9AW and is the perfect place for both rest and rejuvenation. Whether you are staying in one of their comfortable en-suite rooms, cosying up around the open fire with a drink, dining in their restaurant or hosting an event in one of their function rooms The Old Bull Inn is sure to exceed your expectations!