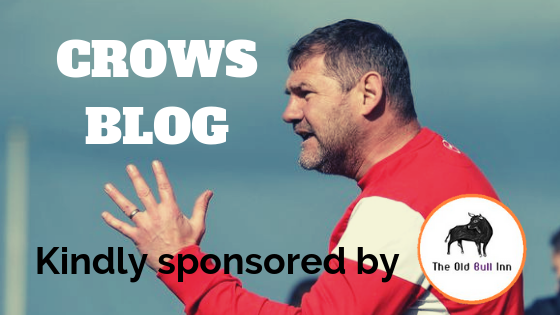 CROWS BLOG: A good mix of ingredients
The CROWS BLOG is kindly sponsored by The Old Bull Inn
CROWS BLOG: A good mix of ingredients
WOW!!!!! Do I need to say more?
It'd probably be a very boring blog if I don't but that's all I feel I need to say! I'm running out of superlatives for these amazing group of players!
I told them after the game that it's what they deserve. As I've said previously in these blogs they have been superb in their attitude and commitment. They have ALL  dedicated themselves to the cause and the results have not been a fluke!
I can hear everyone say 'It's only 2 games and there's still another 40 to go' and yes that's a fair point but as regular blog readers, you all know that I'm honest and truthful and when the players are not doing 'the business' I'll be the first to say so! But, when they are, I'm only too happy to praise this incredible group.
 The million-dollar question is can we keep it up?
The honest answer is…I don't know. I hope we can. The current injury situation doesn't help us and we've had another injury tonight – this time to Braths which is a big blow. Hopefully, it's nothing too serious to our experienced player/coach.
Over the course of a season, injuries are part and parcel of the campaign. We have had several already but the boys coming in have done themselves no harm whatsoever and long may that continue! No Cteam can have any success as just an 11 man team – a top squad is the order of the day!
So, I'm a happy manager tonight but definitely not a delusional one.  It's only 2 wins and however good it was, that's just is what it is! Next, we travel to Banbury. This is sure to be a tough one because we may have set ourselves up as 'targets' now that we are top of the League – it doesn't matter if it's after 2 games or 22 the League leaders are always a special scalp. Can we handle that?
I don't know! All I can say is that the boys are very upbeat at the moment – long may that continue. Personally, I'm riding off of this positivity and, with not too many more injuries to come please, then we know we can compete in every game.
I know this is simplifying things a little too much but we have players in the team who can stop the ball going into our net AND we have lads that can score goals!!
A good mix of ingredients, I'm sure you agree. It's just keeping the players believing in this and THEM doing what they know they can do!
Good start but still sooooo far to go!
Cheers
SC
THE OLD BULL INN, a traditional 16th-century inn,  is located at 56 High Street, Royston, SG8 9AW and is the perfect place for both rest and rejuvenation. Whether you are staying in one of their comfortable en-suite rooms, cosying up around the open fire with a drink, dining in their restaurant or hosting an event in one of their function rooms The Old Bull Inn is sure to exceed your expectations!