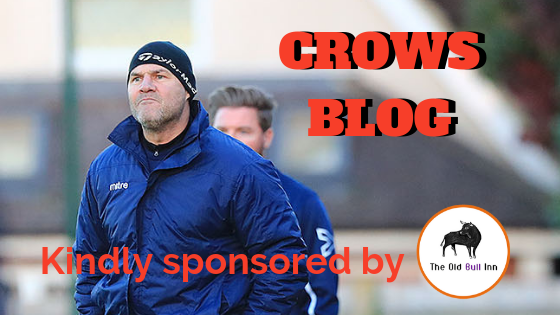 CROWS BLOG: Rain or shine
The CROWS BLOG is kindly sponsored by The Old Bull Inn
CROWS BLOG: Rain or shine
A blog come rain or shine, win, lose or draw to share the good and the not so good times of our start in this years campaign.
After 2 excellent well-documented wins we went up to face a Banbury team who themselves were undefeated with 2 draws. We set up in an unusual shape, one that I wasn't totally for but one that had got us a 5-0 win previously so probably forgiven for keeping the same to recapture Tuesday's performance. The only change was Harold Joseph instead of Danny Green – we have to be careful with Dan in regards to him playing too many minutes in a short timeframe due to an ongoing fitness issue.
In fairness to Banbury, they tried to play out from the back and for a while, we couldn't get used to it.  It wasn't the fact they played through us but the fact that when we got the ball back, we gave it away far too quickly. This enabled Banbury to get their confidence up and they played through us far too easy. They soon took the lead, apparently, their man that scored was offside, and for the first time this season we had conceded and were behind.
We rejigged a bit and got an extra man in midfield but, honestly, we weren't playing well but were just 'hanging in there'. We adjusted and although certainly not as fluent as in previous matches we were slowly putting our mark on the game. However, I did feel that as a team we could have worked harder off the ball for one another.
Then Harold, who is a defender by trade, was struggling to get near his opponent and, maybe frustration overspilled, he put in a challenge that was a booking at most but not the red that he duly received. For me with the level of competence of the officials the area in which the infringement occurred was vital in as much that it was right in front of both dugouts. They all went up like Harold had killed the lad, although as I've said I don't think it was a good challenge, anywhere else on the pitch and a booking would have sufficed. But no, Harold was sent off and another rejig was needed which was certainly not ideal.
Half time came and we set a game plan with what we had left. It was very unfortunate on Brandon Adams who had to be sacrificed for us to to get another much-needed midfielder on the pitch.
In the second half and although we weren't as flowing as in other games, Banbury never troubled us. We were hopeful of nicking something, maybe from a set play or something but football always has a way of evening things up and on Tuesday everything went right for us. Yesterday, however, the opposite was true. Nothing fell for us but we tried and tried until the 'nail in the coffin' came when Ed Asafu-Adjaye got caught on the ball, their player went in well over the top on Ed and Ed reacted by kicking out. The ref took no action on their lad but sent Ed off. By the letter of the law, Ed shouldn't have kicked out but the Banbury lads tackle went totally unpunished – unbelievable!
The boys had given everything, they had been moved into several different positions but kept going and fair play to them for that. Both Chris and are always reluctant to change systems but when you're reduced to 10 players and then 9 then it's desperate stakes at times!
The 'problem' we currently have is a severe lack of central midfielders. With all due respect to Ed, Gus and Harold, all of them natural defenders, but they've all had to do a shift alongside our only recognised central-midfielder in Scott Bridges. I'm certainly not knocking the young lads in Isa and Sam Nolan who are learning their trade. We do have Dan Green who was excellent against Biggleswade but he has an issue with his calf that restricts the number of minutes he can play at the moment. We are obviously still waiting on the fitness of Luke Knight and the returning Spyros Mentis. It's hardly a disaster with 2 wins from 3 games but losing  Josh Castiglione in the first game compounded the issue. Tuesday's victory over Biggleswade Town somewhat masked our 'problem'.
Now we have a week to lick our wounds and get ourselves back fitness-wise. We're hopeful that Ben Martin will be available, also Braths with a bit of luck and Josh will be close to fitness.
Finally, a quick word about Taylor Parr. He recently had an operation on his leg break and all went well to get him back ASAP.
The season has well and truly started!
Cheers
SC
THE OLD BULL INN, a traditional 16th-century inn,  is located at 56 High Street, Royston, SG8 9AW and is the perfect place for both rest and rejuvenation. Whether you are staying in one of their comfortable en-suite rooms, cosying up around the open fire with a drink, dining in their restaurant or hosting an event in one of their function rooms The Old Bull Inn is sure to exceed your expectations!