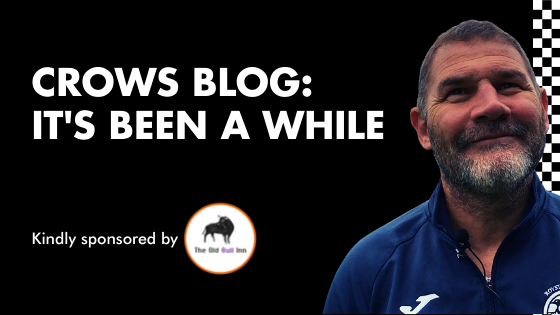 CROWS BLOG: IT'S BEEN A WHILE
Hi everyone!
I know it's been a while since I posted a blog update! Apologies, They've been lacking for no other reason than a heavy workload on my part so not too many blogs. But now to make up for it!!
To start, let's talk about the positive performance the lads showed on Saturday away to Nuneaton Borough. The opposition were, in my opinion, a lot better than their current 2nd bottom position and at times caused us to defend very well. The first half was 50/50 but 2 great finishes from Muzza gave us a nice 2-0 away victory. And one that we now need to build on!
The signs have been there lately. Our showing against Bromsgrove Sporting, especially in the first half, was good all be it no goals to show for it but we created plenty of chances!!
As I've not done a blog for a while there are a few introductions to officially take care of…
Dimi Kryiatzis has come in from Bedfont Sports. I've known about Dimi for some time now and an opportunity to bring him in was just too irresistible. The same can also be said for Carl Mensah. He's another lad who has been on our radar for some time and we felt that it was a great time to get him in from Welwyn Garden City. Marcus Goldbourne is a lad who has come to us on dual registration from Braintree Town. Marcus had previously played against us for Hitchin Town and that's where he had impressed us. Finally,  Rhamar Garrett-Douglas has been with us a little longer and originally came up to regain fitness after an ankle problem but he has forced his way into the first-team squad.  WELCOME TO THE CROWS GUYS!
Both Chris and I felt that the squad needed a little bit of 'freshening up' and, hopefully, by bringing some new lads in we feel that this has done the trick.  We are possibly a touch too many on the numbers for the squad but it will increase competition and that can only be good overall. Obviously, with the dreaded COVID still hanging around, we may have to utilise the numbers. We had a few cases of COVID in the camp recently. Ed Asafu-Adjaye, Brandon Adams, Dan Green, Tom Newman and also Harry Draper all unfortunately tested positive so couldn't be involved on Saturday against Nuneaton. Luckily we've had no more since then – fingers crossed it stays that way!
This Xmas period can be a time we can pick up a real decent amount of points. It won't be easy but it's definitely doable.
To start though we have a Hertfordshire FA Senior Cup game against Oxhey Jets on Tuesday night. It's at home and the club is offering reduced admission so if you can manage to get down please come along and support the boys!
Cheers!
Steve C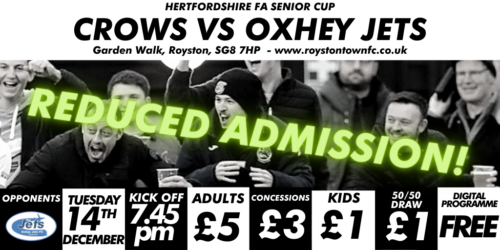 The CROWS BLOG is kindly sponsored by THE OLD BULL INN, a traditional 16th-century inn,  located at 56 High Street, Royston, SG8 9AW and is the perfect place for both rest and rejuvenation. Whether you are staying in one of their comfortable en-suite rooms, cosying up around the open fire with a drink, dining in their restaurant or hosting an event in one of their function rooms The Old Bull Inn is sure to exceed your expectations!