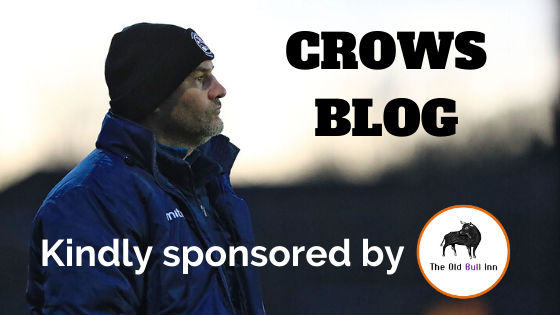 CROWS BLOG: Making hard work of it
The CROWS BLOG is kindly sponsored by The Old Bull Inn
CROWS BLOG: Making hard work of it
Well, the run continues and a massive well done to the players!! We did make hard work of the victory but campaigns are never plain sailing and some difficult matches are always going to happen but to come out of it with maximum points is really pleasing!
In my opinion, the general attitude of all of the players has been superb, there have been changes – some through injury, some tactical – and most have taken it in their stride. Lately, the positive manner that the squad have taken information onboard has been fantastic!
Obviously football can change by the week, it all depends on positive results. In recent months all has been good and results have reflected that,  BUT, it has to carry on! The next few weeks are vital. We have a really tough set of games – not only due to the opposition but also the travelling and the days that the games are played on. This is sure to be a real test for our brilliant group.
On to more immediate things and at last, we can talk about our upcoming FA Trophy  Second Round match. Chester at home on Saturday and I for one can't wait. Once again we'll be underdogs but we have been in this situation before and I really do think that our group revel in this scenario.
Yet again my hardest task will be team selection. As ever between myself, Chris, Aaron and Scott we all have our input to team selection. I do have the final say but I do like to get their opinions and I think that it makes for a happy camp among us as well as the players.
Hopefully, by doing these blogs, you guys get a little insight into 'our world'. At times it is testing and frustrating but when you get a group together that we have it can be a special time.
I hope we can get as many of you down to Garden Walk as possible on Saturday. We would love another great crowd to support us. To get into the last 16 of a National Non-League competition is a fantastic achievement and I want to lead it!
Cheers
Steve C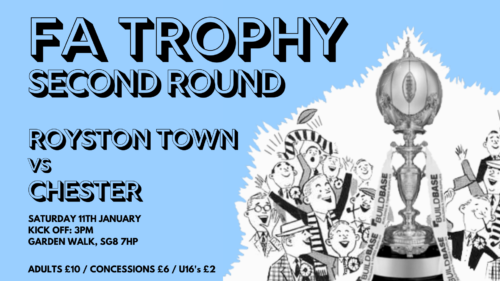 THE OLD BULL INN, a traditional 16th-century inn,  is located at 56 High Street, Royston, SG8 9AW and is the perfect place for both rest and rejuvenation. Whether you are staying in one of their comfortable en-suite rooms, cosying up around the open fire with a drink, dining in their restaurant or hosting an event in one of their function rooms The Old Bull Inn is sure to exceed your expectations!