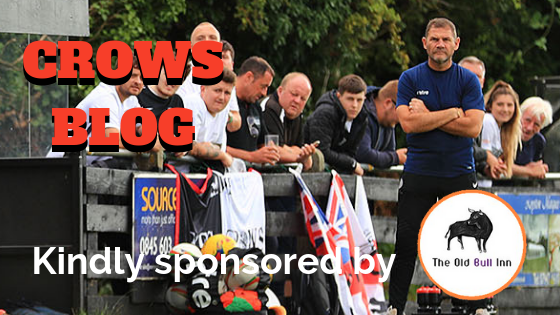 CROWS BLOG: Not Great Prep!
The CROWS BLOG is kindly sponsored by The Old Bull Inn
CROWS BLOG: Not great prep!
Hi,
Last night we had a local derby against Hitchin Town in the League. One where we would be probably have been classed as favourites to win the game, mainly due to our higher status in the League so far this season plus we had home advantage. However, as with most football matches the 'norm' never actually happens and a very resolute Hitchin Team were more than a match and, in fairness to them, they should have probably edged it!
From our perspective, we are not hitting the heights at the moment. We've been playing alright in parts of games but generally, we've been below par all over the pitch! It happens… never or hardly ever in a season does it go always go 'plain sailing' but my real concern is that for a team that overall has had a good start to the season we can seem 'nervy' or rather 'unsure' of our undoubted talents!
What to do? Well for me, we need to go back to basics – win our individual battles, keep the ball better and probably the most important thing is don't be so easy to score against.
We had generally a fantastic pre-season. It was very noticeable that the boys were 'at it'. We suffered a downer with Taylor Parr breaking his leg in the last pre-season match but this, if anything, spurred the lads on to have a good start. They took the new formation on board and on the whole, grew as a group, gaining some brilliant results to give us one of our best starts in recent seasons. Joe Newton got his move and then came back to us on a loan, so everything should have carried on in a positive vein. Coventry started using Joe in games, and even though he was supposed to be with us, we never really knew if we had him from one week to the next!  No disrespect to the lads that played in Joe's position but we looked uneasy without our talented little man!
On reflection, we should have probably let him go and replaced him ASAP. We have tried and some lads have come in, we have kept our shape but maybe it may need readjusting. Personally, I don't like to give up on a previously successful setup but we'll see. It's hardly catastrophic but definitely food for thought for us as a management team. We now need to get ourselves back on track as quickly as possible, some changes may be needed but to keep the core is all-important. We have made one addition, bringing Adam Watkins back on board. I felt we needed an offensive midfielder and Adam definitely fits that bill. Unfortunately, he is cup-tied as is Callum Taylor, a local lad who has come in try out as a left-sided player. Neither are available for Saturday's cup tie so we will have to reorganise accordingly.
The game against Maldon & Tiptree will be as tough as they come. Yes they are from a League lower than us and yes we are at home but they have had an amazing start to their campaign and currently sit top of their League.
It's now time for all of us to 'dig deep' and to believe in our undoubted abilities and, above all, do ourselves justice by performing to our highest level possible. I know we can do it!
Cheers
Steve C
THE OLD BULL INN, a traditional 16th-century inn,  is located at 56 High Street, Royston, SG8 9AW and is the perfect place for both rest and rejuvenation. Whether you are staying in one of their comfortable en-suite rooms, cosying up around the open fire with a drink, dining in their restaurant or hosting an event in one of their function rooms The Old Bull Inn is sure to exceed your expectations!