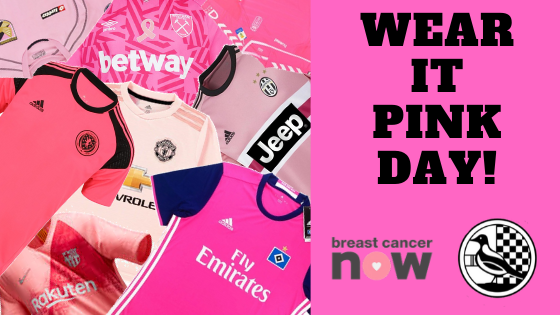 WEAR IT PINK DAY!
WEAR IT PNK DAY 2019
This Saturday is a historic day in the 144-year history of Royston Town FC. We are hosting Maldon & Tiptree in the Fourth Qualifying Round of the Emirates FA Cup and are expecting a bumper crowd. This momentous game has been designated as WEAR IT PINK DAY in aid of Breast Cancer Now. We hope that as many as possible of what we hope will be a bumper crowd will wear an item of pink clothing and make a suggested donation of £1 to this great cause.
Why are we doing this?
Because breast cancer is still here. It's still tearing apart the lives of families and it's still taking the lives of the women we love on a heart-breaking scale. Breast Cancer Now is the UK's largest breast cancer charity, and they are tirelessly dedicated to funding research into this devastating disease. This year, 55,000 women will hear the words "it's breast cancer" and around 11,500 women will die from it.
Research holds the key to a future where all that changes. A future where women get to watch their children grow up, creating a lifetime of memories with the people they love. A future where, by 2050, every woman who develops breast cancer lives – and lives well. But to make that happen, they desperately need our help.
What can you do?
Please come along and support your local team and this great charity by wearing something pink to the game and making a voluntary donation of £1. There will also be other fundraising activities happening. Also, if you can please spread the word amongst your friends and family and help us raise as much as possible for this great cause.
The Crows will be wearing it pink on October 19th. Will you join us and help save lives?