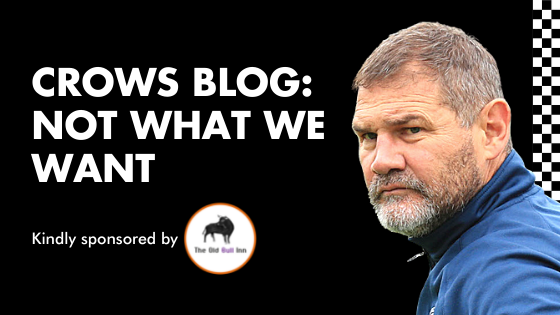 CROWS BLOG: NOT WHAT WE WANT
CROWS BLOG: NOT WHAT WE WANT
Hi everyone,
Although it was a point earned on Saturday, most of us Crows would consider it 2 points dropped against a competitive St Ives Town team.
We didn't seem like we got going on Saturday – we were giving the ball away too easy, not retaining possession when we should and most importantly not putting the opposition under enough pressure. We drifted along until halftime and neither team were really making an impression on the match. So disappointing from our point of view, especially after a reasonable away performance at Stourbridge last week.
We really are not doing enough at home in front of you guys! Why? Well, that's the million-dollar question that one. I don't believe it's for the lack of trying but for me, the lads, in general, are waiting for others to 'ignite' the play. Is it due to a lack of confidence? Possibly. The lads seem confident enough but at home, they may feel a little bit more pressure to perform. If this is the case then hopefully a few early goals to calm us down are the order of the day!
I do also feel that the number of injuries we've had to main players has been a reason as well. Adam Murray, Spyros Mentis, Ed Asfu-Adjaye, Dan Brathwaite, Isa Rotimi and Dimi Kyriatzis have all been missing for periods of time. It's all unsettling in my opinion but we aren't the only team that has suffered from this so no one can feel sorry for themselves. We need to try to get as much out of the season as we possibly can. One such occasion will be our Southern League Challenge Cup Semi-Final against Rushall Olympic in a couple of weeks time. We have to keep believing as I'm sure you guys will agree!
Cheers,
Steve C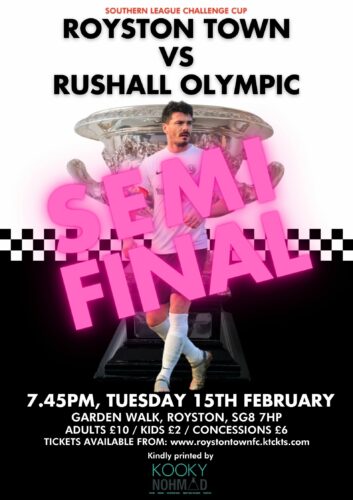 The CROWS BLOG is kindly sponsored by THE OLD BULL INN, a traditional 16th-century inn,  located at 56 High Street, Royston, SG8 9AW and is the perfect place for both rest and rejuvenation. Whether you are staying in one of their comfortable en-suite rooms, cosying up around the open fire with a drink, dining in their restaurant or hosting an event in one of their function rooms The Old Bull Inn is sure to exceed your expectations!