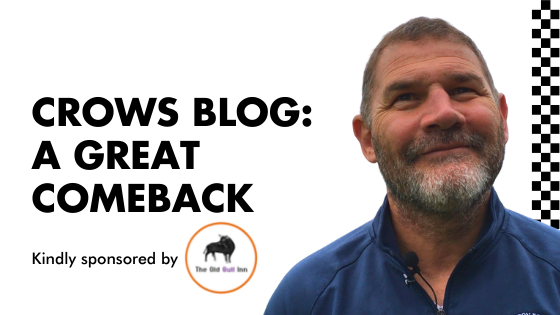 CROWS BLOG: A GREAT COMEBACK
CROWS BLOG: A GREAT COMEBACK
Hi guys,
Just when you think you've seen everything that football can bring it suddenly surprises you and yesterday's match certainly came into that category.
From our part I felt that yet again our play was sporadic at best, our final pass, cross or shot was not quite as accurate as it should be. Frustrating for all concerned but especially the players themselves.
I know that I've said it before and at the risk of sounding like a broken record we have to just keep going. We need to keep believing! These players are all good footballers but right now they seem low on confidence. When this happens, players tend to overthink their play, sometimes taking too long to make their minds up on what they are doing. My solution is, and it's much easier said than done, is to play what you see, keep play simple.
For me, that message is vital, cut out the elaborate football, move the ball about and when we are in a good area to play such as the final third then we need to produce! Be it a shot, a pass or a cross!
Unfortunately, as a manager or coach, it's just words! I can't actually do anything physically to help them other than to keep believing in them – and we do!
Yes, we've had to shake things up, hopefully, that will bring a response but ultimately the boys need to collectively come together and do it themselves. As I've said previously we have done it in spells this year but never for a prolonged period of time.
Hopefully, the boys will look at this or be told about it. They are all good footballers but we need quick, decisive play over the coming months.
'PLAY WHAT YOU SEE!'
Cheers,
Steve C
The CROWS BLOG is kindly sponsored by THE OLD BULL INN, a traditional 16th-century inn,  located at 56 High Street, Royston, SG8 9AW and is the perfect place for both rest and rejuvenation. Whether you are staying in one of their comfortable en-suite rooms, cosying up around the open fire with a drink, dining in their restaurant or hosting an event in one of their function rooms The Old Bull Inn is sure to exceed your expectations!